our breathtaking newsletter
Weekly gloriousness sent to your inbox.
Sunday, March 1st - 12:00 PM-4:00 PM

DERF Happy Hour
Keep checking back here to find out where the next DERF Happy Hour will be!
Dear Eke: How can I make this the best Halloween ever?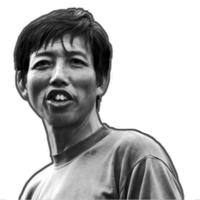 Eke Say: You want make Halloween best ever? You come to Malaysia! In my country, if you go run around door to door and knock on hut dressed up like crazy person, they put you in cage and poke you with sharp stick! Sound like best ever? Yes! But only for us that have sharp stick for good poking at you!

Nice Halloween happen when you make a good costume to make people laugh at you. I make Halloween costume this year to be Kate lady with eight kids. I make wig with Kate-lady hair from chicken feather and then I walk around scream at people. Then I dress up eight chicken like eight kids that walk around and make lots of messes.

There lots of costume you can choose. You could…
Full Story»
|

Email To Friend
|
About Eke Onguaunke

Derf has outsourced it's general advice blog to Eke Onwauke who lives in Malaysia. Eke barely speaks English. He writes the ASK EKE Blog for sixty cents per month. He answers all questions related to finance, nutrition, career, soil erosion, fitness, and raising chickens.
Parties, concerts, nightlife, benefits, art, wine, sports, theater, and more.
Friday Feb 28
Jungle Jim's Whiskey Trail
Sunday Mar 1
Ohio Winter Food Festival
Thursday Mar 5
Cincinnati International Wine Festival
More Events»