our breathtaking newsletter
Weekly gloriousness sent to your inbox.
Thursday, April 19th - 6:00 PM-8:30 PM

DERF Happy Hour
Keep checking back here to find out where the next DERF Happy Hour will be!
DEAR EKE – Did you enjoy watching the Super Bowl?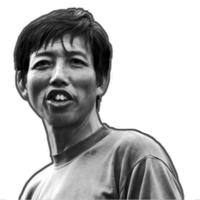 EKE SAY: In my country of Malaysia, only thing like Super Bowl is giant pile of men on dumpster behind restaurant every night after food thrown out. This competition called, 妇女爱的 男子在带 爱的男子, which means "Giant Pile of Men in Dumpster Behind Restaurant". It is better than Super Bowl because it happens every night instead of just once per year. And players get free food if they strong. Eke prefer to have fun cheering during dumpster fight so Eke make wife dress like man and climb in dumpster with men. Eke teach wife how to box out and throw hard elbow to get fish scraps. Eke wife learn how to get much food so Eke love wife very much.

Eke would like Super Bowl more if Eke wife could play. Eke notice some wives play football. Troy Polamalu seem like strong wife. Eke think Troy Polamalu should hide long hair so no one can tell she is woman. Troy Polamalu beautiful flowing hair look like hair on Eke wife's back. Also Tom Brady seem like pretty lady. Eke wife stronger than Tom Brady but not as pretty. Eke would give Tom Brady whole chicken to give Eke sensual massage for one week in Malaysia.

Once Eke wife find almost whole chicken in dumpster. This make Eke wife MVP of dumpster! Chicken was delicious. Eke almost shared chicken with wife but Eke very hungry from cheering during dumpster fight. But Eke promise wife if she is MVP of dumpster again Eke will send her pictures from Disneyworld! Hopefully beautiful lady Tom Brady go to Disneyworld with Eke.
Parties, concerts, nightlife, benefits, art, wine, sports, theater, and more.
Thursday Apr 19
Tunes & Blooms FREE concert series
Sunday Apr 22
Oakley Pup Crawl
Wednesday Apr 25
Wild About Wine
More Events»