our breathtaking newsletter
Weekly gloriousness sent to your inbox.
Saturday, May 26th - 1:00 PM-1:00 PM

DERF Happy Hour
Keep checking back here to find out where the next DERF Happy Hour will be!
DEAR EKE – Do you plan to watch the Academy Awards?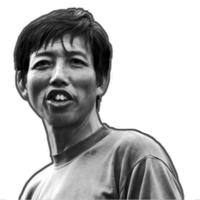 EKE SAY - Yes Eke very much identify with beautiful Hollywood people. In my country of Malaysia, peoples often consider Eke famous beautiful person. Eke was missing tooth from fight over another man's wife but Eke's brother make new tooth from smooth chicken bone. So people call Eke, 妇女爱的 男子在带,which means "beautiful man who look like movie star with smooth tooth". Sometimes people get jealous and think Eke rich because of beautiful smooth tooth.

Eke would like to be Hollywood actor. Eke would be in action movie such as Dolphin Tale because after movie Eke could eat delicious dolphin. Also Eke like to remake movie Throw Momma From the Train in Malaysia. But in Malaysia it is distasteful to actually throw mother from a train. We only allowed to throw wife from train.

Eke turn down TV show role in Malaysia to actor in show called, Eke's Creek. This is Malaysia version of Dawson's Creek with amazing actor James Van Der Beek. Eke not have time for show because of being boss of wives at Eke Bunny Ranch where dreams come true for men. But Eke hope to meet James Van Der Beek some day and learn how Dawson have creek named after him.

Eke would like to play lead role in Autobiography of David Schwimmer. Eke huge fan of David Schwimmer because of looks and talent.
Parties, concerts, nightlife, benefits, art, wine, sports, theater, and more.
Friday May 25
Cincy Fringe Festival
Saturday May 26
Taste of Cincinnati
Friday Jun 1
Bunbury Music Festival
More Events»