our breathtaking newsletter
Weekly gloriousness sent to your inbox.
Saturday, June 23rd - 7:30 AM-12:00 AM

DERF Happy Hour
Keep checking back here to find out where the next DERF Happy Hour will be!
DEAR EKE - Should I quit my boring job to pursue a singing career?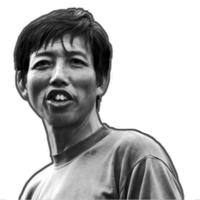 EKE SAY - No. Eke say all jobs have boring part. Always keep job and you sing after work time. Tell boss you must sing in bathroom at company also. If boss say no for you to sing you cry like baby until boss say ok to sing now. Other workers may have strong admiring to your singing. But remember signing outside of job is not real career. It too much fun for to be work. No persons can get monies from singing. Only things that can get monies is selling chickens, prostitution, and growing poppy seed for making of opium.

Every day when Eke at work helping to cut chickens, Eke sing nice songs. Eke sing many nice songs that all people like in my country of Malaysia. Eke favorite song is 妇女爱的 男子在带 爱的男子. This is best song of Malaysia because it have such powerful words of strong fighting in great war of Malaysia. The song, 妇女爱的 男子在带 爱的男子, is about great Malaysia warriors who take poisons to kill selfs instead of be in war prison of enemy. This is how Eke would be if Eke was warrior. Eke like to sing of killing self if taken for prison. But Eke would not sing to enemy if captured because song may tell enemy plan for killing self. Then enemy kill Eke before Eke kill Eke. Eke not be such disgrace as this.

Other great song of Malaysia is 妇女爱的 男子在带. This song is Malaysian version of Jay-Z song, 99 Problems. Mans in Malaysia greatly admire Jay-Z who have many womens. Eke raising many chickens to be able to have many womens like Jay-Z.
Parties, concerts, nightlife, benefits, art, wine, sports, theater, and more.
Saturday Jun 23
Hyde Park Blast
Sunday Jun 24
Hype Park Blast
Thursday Jul 12
TEDxCincinnati Main Stage Event 2015: Accelerate
More Events»