our breathtaking newsletter
Weekly gloriousness sent to your inbox.
Thursday, April 19th - 6:00 PM-8:30 PM

DERF Happy Hour
Keep checking back here to find out where the next DERF Happy Hour will be!
Dear Eke - Can you tell me how to be better at sports?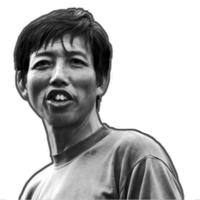 EKE SAY - Yes Eke say it good to be strong athletic now. Desirous womens like to be with mans who perform athletical wonder feats. Eke have many womens now because of abilities of acrobatics and strengths. Womens say Eke chest and arms very good. Eke not perform in Olympics due to not find parking spaces. Beijing crowded and Eke not have time to looking for place for Eke car. Also Eke shoulder injured when Eke carry too much sacks of chickens for community dinner in country of Malaysia.

Eke say mans will be stonger when exercise with Bowflex. Chuck Norris on TV also do this. Chuck Norris get many womens due to Bowflex strengths in 20 minutes of day. Chuck Norris possible to carry many sacks of chickens to impress womens. Eke have poster of Chuck Norris holding great sack of chickens above head to bring strong reminder of powers for all mans to have. Eke recommended now all mans woks on Bowflex 20 mins of day to have ripping muscle.

Also Eke say mans must watch Michael Phelps to see greatness athletic. Eke swim like Michael Phelps through Malaysian canal of industrial pollution but with carrying great sack of chickens tied to feet with rope. If Michael Phelps carry such heavy chickens he also may not win such many gold medallions. Sometime if chickens drown and sink man must remember to cut rope so he not sink. This is great tragic when man sink with great sack of dead chickens. People in community upset because have both sadness and strong hunger.
Parties, concerts, nightlife, benefits, art, wine, sports, theater, and more.
Thursday Apr 19
Tunes & Blooms FREE concert series
Sunday Apr 22
Oakley Pup Crawl
Wednesday Apr 25
Wild About Wine
More Events»