our breathtaking newsletter
Weekly gloriousness sent to your inbox.
Saturday, May 26th - 1:00 PM-1:00 PM

DERF Happy Hour
Keep checking back here to find out where the next DERF Happy Hour will be!
DEAR EKE: Can you recommend 5 things I should do before I die?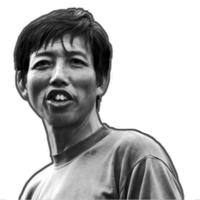 EKE SAY: I have 5 things all mans should do before die. Here is list:

Spray graffiti on ex-wife car
This very important for man to feel strong. Get mad by remembering all bad things ex-wife did then at night find ex-wife car. Paint all bad thoughts on car until man start to feel better. This release man from negative thoughts. Next morning tell new wife her car will be like that too if she become bad wife. This will make new wife always stay as good wife.

Find your real parents
All mans need to know who real parents are. In my country of Malaysia no one know who real parents are because most babies left behind Chinese restaurant. Parents who found you behind Chinese restaurant and made you slave on chicken farm are not real parents. Mans deserve to know who real parents are. Find real parents by putting ad on Craigslist. Make advertisement that say, "Man stolen from back of Chinese restaurant looking for parents who left him there."

Give back stuff you stole
It will make man feel good if you return all things you stole from people during your life. Leave note like this, "Sorry I stole this car. You had two cars so I thought you wouldn't care. Sorry I also stole bike from you but I think you stole bike back from me. Very sorry." If you stole your children to make them slaves in landscaping business, give them back to real parents. Tell them they did good job in landscaping business and they earned right to go back to real parents. Give them one chicken for all hard work they did.

Make a will so wife can have chickens
If you die suddenly without will, all chickens may go to government and wife may have to be prostitute again. This may be okay if wife good-looking but other wife may not get enough customers to survive. Make will and wife will be able to eat for months after you die.

Tell your kids they don't have to be like you
It is good for kids to understand they don't have to be lazy, drug addict, or criminal. They can be good people. Tell them they should look at everything you did and do opposite thing. Tell them it is okay to go to church without stealing money from collection box. Tell them you sorry for teaching them how to siphon gas from neighbor's cars.
Parties, concerts, nightlife, benefits, art, wine, sports, theater, and more.
Friday May 25
Cincy Fringe Festival
Saturday May 26
Taste of Cincinnati
Friday Jun 1
Bunbury Music Festival
More Events»