our breathtaking newsletter
Weekly gloriousness sent to your inbox.
Sunday, April 22nd - 11:00 PM-5:00 PM

DERF Happy Hour
Keep checking back here to find out where the next DERF Happy Hour will be!
DEAR EKE: Should I go back to school to continue my education?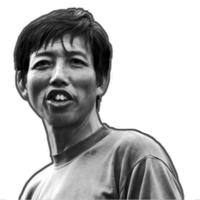 EKE SAY: In my village where I grow up, wise old man always say, "School not make smart, smart make smart." Then old man would make potty on self and fall down, so Eke say he not smart man. But he do know that school not make smart and he right. He not right about place to make potty.

School is not where you make smarts and prepare for jobs. School is place to avoid responsible job, and good place if you want party sexy time with binge drinker classmates. No one come out of school with smart that they make in school, they make smart other ways. The school is just a place where teacher go to get away from mean husband.

I try school for little time when I young, but I too smart already, so I don't pay attention to no one. Many time I go to school and they say to me, "Eke! Go away from school now! You make trouble and not learn!" So I go away but keep coming back next day because lunchtime is good with salisbury steak made from chicken neck.

After school over they not give me a diploma of complete school work because I don't study or take tests. Spend all school time throwing dirt on classmate and going to bathroom to smoke cigarette. My people that take test and study and learn get diploma, and to this day and time they only use diploma to roll up and shake at naughty chickens.

In America you have school that same as that. When you done your diploma good to hang on wall next to picture that you take throwing up in school dorm room. You might take diploma and not even put it on wall because not enough room on wall because so many throw up pictures.

If you want education, don't waste time in school, but study and learn other way: like watch TV. You learn how to do all the thing in life you need to do on the TV. You watch food TV to learn to cook, and you watch TV to learn to dance with stars, and you watch Walker Texas Ranger to learn to give people beat down when they make you mad.

You spend money much smarter if you buy TV dish instead of class time. Then when you look for job and they ask you about school time you say that you school ALL the time. You school in the morning on the game show and judge show to learn math and law. You go school in the afternoon to learn family and social from Jerry Springer and you learn ways of love from soap opera. You go school at night and learn crime scene investigator for all big city like Las Vegas, New York, and Miami.

Eke say learn other places, don't go school. For the fun part of school you go to bar to drink and throw wet napkin at girls. You go to gym and play ball and shower with other men and hit them with towel. And you no need diploma to roll up and shake at chickens, you use karate you learn from Walker Texas Ranger.
Parties, concerts, nightlife, benefits, art, wine, sports, theater, and more.
Sunday Apr 22
Oakley Pup Crawl
Wednesday Apr 25
Wild About Wine
Thursday Apr 26
Tunes & Blooms FREE concert series
More Events»