our breathtaking newsletter
Weekly gloriousness sent to your inbox.
Sunday, April 22nd - 11:00 PM-5:00 PM

DERF Happy Hour
Keep checking back here to find out where the next DERF Happy Hour will be!
Dear Eke: Do you know what kind of pet would be right for our family?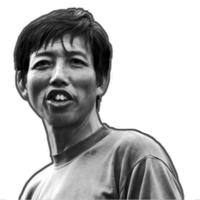 Eke Say: You want adopt Eke so Eke be your pet around house?! Ha! Eke lay on back and let you rub tummy and Eke shake his leg when you hit special Eke tickle spot! Lots of fun! I also not have to work hard to go bathroom only outside only and not make you embarrass in front of guests by humping their leg or a couch cushion. Eke good pet like that.

You need figure out what work best for you and everyone lives in your house. Pet not just for you, also for your spouse and children and all of your chickens. You might find dog or cat that you think is cute and fun, but then if kids or chicken no like it, no one happy in the house.
Dogs in my country make good pet, but sometime people also use dog not just for petting and fetching. Sometime people make dog for things like stew or soup or wrapped up in a small dough ball for puppy hot pocket. U.S. Americans not so much like that, you like hot pocket with pepperoni not beagle.

You find dog many places like dog store or at dog jail where bad dogs go. Best place to get dog is dog jail where they have dogs that look for second chance to be good dog and not run away or eat baby no more. You go dog jail and pick out dog and play with dog and see if it a dog you want. Then you talk to dog for long time and make sure it no want eat family.

Cat can be a pet too. Cat sometimes good pet sometimes not good pet. If you no like cat, you can give cat to Sung Hop Sing's restaurant on Colerain Avenue. Make sure go to back door and ask for Lee. He give you $4 or #2 with eggrolls.

Whatever pet you make your new friend in your house, make sure you know how they need care. You need buy them food and dishes to eat out of. You need take them to animal doctor and make them so they not make more pets. Animal doctor make operation on them to make them no good at making animal love. You not should try to do this operation at home by yourself. You need helpers, and you need do it outside and you need do it near garden hose.

Hope you have happy time with new pet! Hope new pet love you and you love new pet and chickens stay happy, maybe ride on back of dog and you make video for YouTube! If you want video Eke belly scratch, you write me and I come to you!
Parties, concerts, nightlife, benefits, art, wine, sports, theater, and more.
Sunday Apr 22
Oakley Pup Crawl
Wednesday Apr 25
Wild About Wine
Thursday Apr 26
Tunes & Blooms FREE concert series
More Events»