our breathtaking newsletter
Weekly gloriousness sent to your inbox.
Thursday, April 2nd - 6:00 PM-8:30 PM

DERF Happy Hour
Keep checking back here to find out where the next DERF Happy Hour will be!
Dear Eke: How can I make this the best Halloween ever?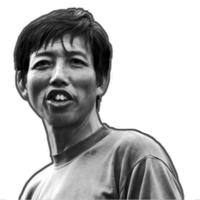 Eke Say: You want make Halloween best ever? You come to Malaysia! In my country, if you go run around door to door and knock on hut dressed up like crazy person, they put you in cage and poke you with sharp stick! Sound like best ever? Yes! But only for us that have sharp stick for good poking at you!

Nice Halloween happen when you make a good costume to make people laugh at you. I make Halloween costume this year to be Kate lady with eight kids. I make wig with Kate-lady hair from chicken feather and then I walk around scream at people. Then I dress up eight chicken like eight kids that walk around and make lots of messes.

There lots of costume you can choose. You could make sexy time costume where you almost naked and people give you treats. When you dress sexy time costume, you might not just get treats, you might get the itchy disease. Itchy disease not treat. Itchy disease very bad trick. If you got itchy disease anyway, you just tell everyone it your costume you dress like Pam Anderson.

You can also make costume that really scary. Some people think they make sexy time costume, but they have bad jiggle place on body and it really a scary time costume. Lady leave house think she have sexy cop costume, but really she a scary fat cop lady costume. Sometime man think it funny to dress up like sexy lady. That scary too. What they really dress like is guy who don't know which way to make sexy time.

You should make Halloween party and invite all your friends to come over. You make your house look scary with cobweb and spiders and dead body. You do this decoration by not clean house for month and month before party. Hopefully, someone die at your house and party happens when they still make good decoration, but before they smell bad.

Make sure you serve drink at party to make people get happy alcohol time. This make everyone forget they dress up like freak and have good time. You make drink that look scary like blood. Or you make drink that look scary like brains and guts. Or you make drink that look scary like Zima.

You need serve food at party too. This make guest happy and keep their belly full so all the scary drinks don't make them fall down or throw up in your bathtub. If someone do make throw up in your bathtub, you tell other guests it a spooky decoration. You fill up tub with water and apples and throw up and make it into happy party game.

Children make Halloween fun times by go around neighbors house and make them give candy. Some children do that at time when it not Halloween. They go to neighbor house and make them give stereo, jewelry, and stuff in wallet. These children not knock on door, but they do wear mask. Most children try to be good and ask nice for treat on

Halloween, so you be nice and give them good treat and not stupid treat like apple or penny or prayer card. If you give them bad treat, they give you big treat of potty on your porch. Or maybe they come in when you not home, take stereo and throw up in your bathtub.
So you have Happy Halloween! You dress sexy or scary! You eat food and drink scary Zima! And if you not make good treat Eke hope you get poke with stick in cage!
Parties, concerts, nightlife, benefits, art, wine, sports, theater, and more.
Thursday Apr 2
Tunes & Blooms FREE concert series
Monday Apr 6
Opening Day and Findlay Market Parade
Wednesday Apr 8
Cincinnati Flower Show
More Events»