our breathtaking newsletter
Weekly gloriousness sent to your inbox.
Thursday, April 19th - 6:00 PM-8:30 PM

DERF Happy Hour
Keep checking back here to find out where the next DERF Happy Hour will be!
Dear Eke: What is your holiday season like?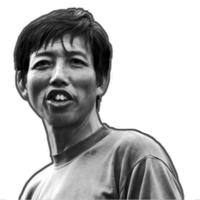 Eke Say: You don't call it 'Christmas Season'? That mean you must be bad person that hate Christmas and like punch children in belly while they sing happy song about dashing in snow. You must be person that want to see Santa sleigh truck get stuck in ditch, then watch him as he eat reindeer one by one to survive for food. Or maybe you just trying to be nice, Eke not sure, but just guess.

Christmas time in Malaysia happy time for everybody. You know it Christmas time because temperatures dip down to high 80's with only 96% humidity. That chill in the air make us want to drink cocoa and wear muffs on hands while we go skating on dirt.

People in my village like make Christmas special by put up decoration on huts. Rich family in my village leave lights up on hut all year round, but not because they have Christmas spirit. They leave lights on hut because to show off they have electricity.

Eke hut always have nice display of lights on roof, and candle in window, and big balloon that look like Santa on front yard. I also like dress up chicken in Santa suit to make them look like Christmastime Santa helper chicken. One time, chicken get loose when it wear Santa suit and travel to neighbor house and make mess at neighbor house. Neighbor not get mad at Eke for what my chicken do. Neighbor think that he been bad all year, and Santa chicken punish him by go potty on house.

Another thing that make Christmas special is you get people gift and they get you gift. Gift giving time is tricky. You want make sure you get good gift, but you also want make sure you not get something too nice for other people gift. Best thing to do, take bad gift you get from last year, and give them to people. You keep good stuff, and keep giving away bad stuff. By the time you an old man, you have lots and lots of good stuff and you ready to die happy.

Buying gift is hard especially for all your many wives. You make it easy, you give them soap. You go to soap store and they put soap in gift box that make look like you work hard to find and package soap. Then you give it to them, and if they don't like it, next year you ask for new wife for Christmas.

This also the time to sing songs and tell stories that you tell every Christmas time. Children in Malaysia love hear story and sing song about Kamal The Red Beak Chicken. Kamal come and save Christmas one year. All the chicken used to make fun of Kamal because he a different chicken with shiny red beak. They tell in story about how usually, chicken that look different get outcast. Then they get rocks thrown at them and made into soup. But Santa use Kamal the Red Beak Chicken to pull him around world and that make people happy, so they not throw rocks at Kamal. They hit him quick with bat so he not suffer. He make best Christmas soup ever.

You have Happy Christmas time! You give soap to wives and get new present and eat soup and sing songs about hero chicken! Just make sure get Eke nice present like hot new wife or Snuggie!
Parties, concerts, nightlife, benefits, art, wine, sports, theater, and more.
Thursday Apr 19
Tunes & Blooms FREE concert series
Sunday Apr 22
Oakley Pup Crawl
Wednesday Apr 25
Wild About Wine
More Events»