our breathtaking newsletter
Weekly gloriousness sent to your inbox.
Saturday, May 26th - 1:00 PM-1:00 PM

DERF Happy Hour
Keep checking back here to find out where the next DERF Happy Hour will be!
Dear Eke, Please provide your analysis of the Winter Olympics?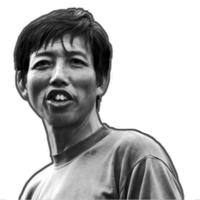 EKE SAY: In Malaysia, there no snow for making Olympic fun sport. But we still like watch Olympic to see nation of world gather in peace to show off Spandex pants we make in Malaysian factory.

Some winter Olympic sport we do have Malaysia kind of version to try. There is curling sport where drunk people throw big rock thing on ice and people sweep with broom to make it go places. We have sport like that in Malaysia, but there no big rock. We just sweep to make floor clean. There also no winner for game, except everyone win who like clean floor.

Eke like watch sport with people ski on snow and then they stop ski to shoot guns. People in that sport should shoot gun at person beating them in race. After shoot person in front of you, you ski past and win. Then you shoot everyone who ski up behind you to celebrate your victory. Better than gold medal!

Olympic lady sports have lots of ladies with big thigh muscles racing on snow and ice. These lady wear very tight pants and when you watch them on the TV you smile at them. If you turn head to side and look at TV, it look like they smile back at you. They seem like nice ladies.

Many Malaysia people don't like hockey. Malaysia people have favorite sport is a football game that you call soccer. But Eke like hockey because I figure out that hockey is just like soccer but you hit ball with stick instead of kick with feet and you play on smaller field that is slippery and players missing teeth because they beat each other up. Other than those small things, hockey and soccer same game.

Eke also like sport where ladies go dancing around on ice in sparkly costumes. Ladies like that hard to find in Malaysia. Lady in Malaysia who wear sparkly little costume like that usually ask you to buy them expensive drink in bar then steal your kidney while you sleep. Olympic sparkly costume ladies seem like nicer to be with.

They also have sport where men do the same dancing on ice. These men dress up like sparkly costumed ladies. We don't have men do that in Malaysia. Men like that get chased out of village and move to Thailand.

Many sport in winter Olympic must be done by people who are drunk or high on drug. Who want to fly down mountain jump up in air and land in snow? Who want to ride skateboard in tube back and forth? Who want to dance on ice in sparkly costume with lady in sparkly costume and never touch her buttocks even once? Crazy drunk high people, that who.

You have many fun Olympic time and Go! for the USA! Eke have no chicken in Olympic fight so I root for America lady with big muscular thigh to beat German lady with big muscular thigh! Eke root for America girl-man to dance better in sparkly girl costume and beat all other girl-man in sparkly costume!
Parties, concerts, nightlife, benefits, art, wine, sports, theater, and more.
Friday May 25
Cincy Fringe Festival
Saturday May 26
Taste of Cincinnati
Friday Jun 1
Bunbury Music Festival
More Events»