our breathtaking newsletter
Weekly gloriousness sent to your inbox.
Saturday, May 26th - 1:00 PM-1:00 PM

DERF Happy Hour
Keep checking back here to find out where the next DERF Happy Hour will be!
Dear Eke: My new job that requires a lot of traveling? Any travel tips?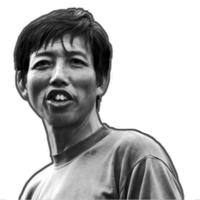 EKE SAY: Hope you happy to have new job. Eke have same jobs for many many year. Eke work hard as chicken farming man who collect chicken egg and make chicken happy. Eke also chicken matchmaker, take chicken that ugly or don't know how to make sweet love and then find rooster to make match with that chicken. Eke also make newspaper column that people read all over the world and DERF paper pay Eke with coupon for Arby roast beef sandwich. As soon as Arby restaurant open in Malaysia, I be so rich in roast beef I be the fattest man in Asia! Yay! Go Eke!

So now you have job that make you have to go on train, plain and automobile like movie with fat man and other man. Hopefully you not have trouble like those two have in movie, but if you do, I hope it hilarious hijinks like that and not just sad and lonely lifetime spent always two seconds away from crying like baby. That not make for good movie.

If you make the travel all the time, you must learn how to pack your things in one small suitcase that you can take on plane with you. If you not take your case on plane with you, then airline take your bag and send someplace else. I know this because we take trip to airport in Malaysia once every month and they give away free luggage from Delta that supposed to go from Dallas to Raleigh but come here instead. My village full of people who lucky enough to wear American clothes and do personal hygiene from little bottles of shampoo thanks to people who hand luggage over to silly prankster at Delta.

When you travel for work, you get money from boss man that you use to get hotel room while you away from home. You be smart to take that money and put in pocket instead of spend on hotel. You keep money and sleep on benches in park, or you make extra room in carry on luggage to bring tent or cardboard box that you can sleep in. They also might give you money to spend on meal, but you keep that money too, and just eat your food during free breakfast time at hotel you supposed to stay at.
If you fly very much all the time, you get airline give you frequent fly miles. You keep these miles and then trade them for free flights at other time. Good time to use frequent fly miles is when you sick of job, so you embezzle lots of money from them and buy many thing on company credit card and then you use miles to buy flight to new home in Mexico or Barbados where they no find you.

Sometime company too cheap to buy you airline ticket so you must drive places to go for work. This take lots of time and make you full of boring sadness. You find something to listen to on car radio like rock station play AC/DC over and over or talk radio station that tell you how to buy gold or send gold someplace in prepaid envelope and then they promise to send you check. If listening to radio sound like even worse boring sadness, that because it is. Better you spend time in car counting cows or talk on CB to trucker men who look for prostitute.

You be happy in new job! You make lots of money and save miles for when time to steal money and run away to new life! You go to hotel and eat free danish after you fold up cardboard box and put away in small luggage! I hope you very happy and count many cows and prostitutes!
Parties, concerts, nightlife, benefits, art, wine, sports, theater, and more.
Friday May 25
Cincy Fringe Festival
Saturday May 26
Taste of Cincinnati
Friday Jun 1
Bunbury Music Festival
More Events»