our breathtaking newsletter
Weekly gloriousness sent to your inbox.
Saturday, June 23rd - 7:30 AM-12:00 AM

DERF Happy Hour
Keep checking back here to find out where the next DERF Happy Hour will be!
BATHROOM ATTENDANT CAREER TALK
Dear Bathroom Guy: Can you tell us the fascinating history of the bathroom attendant profession?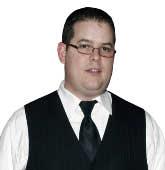 Wow! I couldn't have written a more interesting question if I had written it myself! OK, I did write it myself, but it still could not be more interesting.
I've learned from my studies that the first bathroom attendant was probably a caveman. Chances are, he served as a lookout for wild beasts while his fellow cavemen tended to their bathroom needs.
Things sure have changed since then! Now, we have enclosed bathrooms featuring flush toilets, and almost no chance of being attacked by a wild animal. Of course, there are exceptions. I recently read about a bathroom attendant at a safari compound in Tanzania who keeps a tranquilizer gun right next to his mouthwash! I've never…
Full Story»
|

Email To Friend
|
About Matt Drenim

Matt comes from a long line of bathroom industry professionals. His father was a Bathroom Attendant as was his father before him. Matt's blog answers all questons for people interested in exploring career options in the the vibrant bathroom industry.
Parties, concerts, nightlife, benefits, art, wine, sports, theater, and more.
Saturday Jun 23
Hyde Park Blast
Sunday Jun 24
Hype Park Blast
Thursday Jul 12
TEDxCincinnati Main Stage Event 2015: Accelerate
More Events»