our breathtaking newsletter
Weekly gloriousness sent to your inbox.
Thursday, April 26th - 6:00 PM-8:30 PM

DERF Happy Hour
Keep checking back here to find out where the next DERF Happy Hour will be!
KATIE VS. MEN - Ménage a Trois?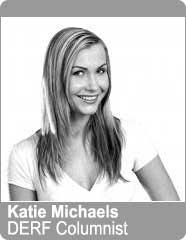 Ménage a Trois?
by Katie Michaels, DERF Lifestyle Columnist

Well now, it sounds exciting, looks enticing, and definitely "en vogue", but come on…are you really doing it? For those of you who took Spanish in high school…I'm talking about a threesome. Anyway,we all see them – those supposed "naughty" girls rubbing all over each other in the bars – hell, one almost got a hold of me last night! Luckily, I escaped! Boys, I know you get all warm and fuzzy when you get to see these displays (the drool is a little much though), but come on, do you really think when it comes down to it, it's really going to happen? Somebody is inevitably going to be left out. Before I go any further ('cause I know you're dying to know) – no, I have not been a participant…lots of offers, but it's just not my thing. Sorry guys!

Think about it…do you really want to watch your boyfriend touching another girl, or your girlfriend touching another guy? The thought alone drives me crazy! And guys…truthfully, isn't it hard enough to please one woman? Do you really want the pressure of two? Are you willing to take the chance that your "little buddy" may not be able to, um, stand up? In my opinion, all this threesome talk is just that – talk. Are you really going to tell me you've done it? Before you say yes, think about it first. I'm not talking about a guy watching two girls go at it. I'm talking about the real thing…all three of you actively participating. I'm thinking the answer is no. Fantasizing, talking about it, even watching Jenna Jameson's "Nasty as I Wanna Be", with your significant other is O.K. – could even be exciting. I'm all for talking dirty, dressing up, and role-playing. But when it comes right down to it, neither one of you would really want it to happen.

So, talk about it, act it out, watch it…whatever turns you on, but I think it's best kept as a fantasy, an exciting form of four-play, not something you really want to experience. So, dare I ask, lol, but send me your comments…katiem@derfmagazine.com
Parties, concerts, nightlife, benefits, art, wine, sports, theater, and more.
Thursday Apr 26
Tunes & Blooms FREE concert series
Thursday May 3
Tunes & Blooms FREE concert series
Friday May 4
Little Kings One Mile - Beer Series
More Events»