our breathtaking newsletter
Weekly gloriousness sent to your inbox.
Saturday, May 26th - 1:00 PM-1:00 PM

DERF Happy Hour
Keep checking back here to find out where the next DERF Happy Hour will be!
Got bedroom skills?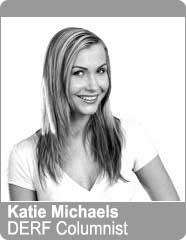 By Derf Lifestyle Columnist Katie Michaels

Got bedroom skills? Now, don't just say, "Yes!" Are you sure? How do you really know?
We all, of course, would like to think we're great in bed. But the cold, harsh truth is that not everyone can be – it's just impossible. I have heard 75% of men surveyed believe they are in the top 25 percentile in athletic ability. This doesn't prove anything about athletic ability but it does indicate how amusingly overconfident men are. I would say most men judge themselves with a similar overconfidence in the bedroom area. I'm not going to bother pointing out all the ways to figure out if you're terrible – pretty obvious. But what makes you "good?" Have you heard similar compliments from multiple people? – "You're a great kisser" – "Wow!" – "Oh my gosh, that was amazing!" – "Where did you learn how to do that?" These may or may not be true. What if the people paying you these compliments simply have low standards due to limited experience? What if they're just trying to get with you again? You really have no way of knowing, do you?
In my opinion, to really be good in bed is to not only have an amazing physical connection with your partner, but an amazing emotional connection as well – when you both instinctively know what the other wants, and it's like every single moment has just been precisely orchestrated and timed to absolute perfection. Sure, you could tell each other what to do and how to do it (that takes a lot of the fun out it though) and might get pretty good results. But when you know each other so well and are so emotionally connected, that something else just takes over…that's what turns it into the mind-blowing, gasping-for-air, you can't even form words, incredible, no doubt in your mind that the two of you are the most amazing lovers on the planet – sex.
Some of you are fortunate enough to know exactly what I'm talking about. So, yes, you can definitely say you're "good in bed." For the rest of you…until you do, I guess you'll just have to take the word of someone that may or may not even be qualified to comment. So, are you "good in bed?" The world may never know.
Parties, concerts, nightlife, benefits, art, wine, sports, theater, and more.
Friday May 25
Cincy Fringe Festival
Saturday May 26
Taste of Cincinnati
Friday Jun 1
Bunbury Music Festival
More Events»