our breathtaking newsletter
Weekly gloriousness sent to your inbox.
Saturday, May 26th - 1:00 PM-1:00 PM

DERF Happy Hour
Keep checking back here to find out where the next DERF Happy Hour will be!
Lifestyle blog with Slade Dandridge
Stop by anytime if you'd like to check out my new 19 inch TV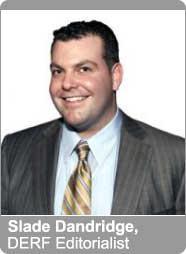 People who know me know I don't like to brag. I am a humble person but this is one of those times when I am really proud of myself and I want to share it with everyone. I don't want everyone to think I'm rich but I just purchased a brand new 19 inch TV.

It seems like TVs are getting bigger and bigger everyday so I decided to upgrade mine. My old 13 inch TV was just getting too small. Frankly it was a little embarrassing. I've noticed TVs in automobiles that are bigger than my old TV.

I recently brought a woman I was dating back to my apartment and she though my TV was a laptop. After that humiliating incident I finally made the decision to upgrade!

I researched the available 19 inch TVs on the internet to make sure I purchased the right one for my needs. The model I bought is really impressive. There is simply not enough room here to go into all the excellent features but let's just say it came with a remote control and it is state of the art in every other way also.

Since everyone loves to watch sports on a large screen I guess I am about to mysteriously become everyone's best friend! Seriously, I don't mind if people use me for my TV. Everyone is welcome. If it takes a state-of the-art TV to bring people together then so be it. I love entertaining people and if my TV makes people happy then as far as I am concerned the world is a better place.

If you get a chance this weekend stop by and check it out. I'll be there from noon to 6pm on Saturday and most of the day Sunday except for around 1-2pm when I am running a few errands.
Parties, concerts, nightlife, benefits, art, wine, sports, theater, and more.
Friday May 25
Cincy Fringe Festival
Saturday May 26
Taste of Cincinnati
Friday Jun 1
Bunbury Music Festival
More Events»