our breathtaking newsletter
Weekly gloriousness sent to your inbox.
Monday, April 6th - 1:00 PM-1:00 PM

DERF Happy Hour
Keep checking back here to find out where the next DERF Happy Hour will be!
Lifestyle blog with Slade Dandridge
Slade Dandridge: I'm currently taking applications for my Fan Club Manager.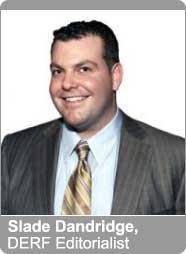 By Slade Dandridge, DERF Editorial Columnist

Since I have reached a breathtaking level of success and notoriety due to the popularity of my column I no longer have time to handle the day to day needs of my fans. I currently estimate my fan base to be approximately 10-15 people but I expect that number to grow rapidly due to the intense buzz about my column. It's true most of my fans are family members and other employees at DERF but I anticipate the tidal wave of other fans will hit like a tsunami very soon.
To accommodate the impending rush of fans I have decided to delegate all of the activities related to taking care of my them. I am searching for a professional individual experienced in managing the fan club of a high profile celebrity such as P. Diddy, Beyonce, or James Van Der Beek. Writing this popular column consumes nearly every moment of every day in my life so this individual must be capable of handling literally every activity related to my extensive fan base.
Additionally, because of the demands of my column I do not have time to manage my Fan Club Manager so I have decided to hire a Manager of my Fan Club Manager. I believe this organization structure will allow me to focus 100% on my rigorous demands of my column. This individual must have experience managing managers of fan clubs of mega high-profile celebrities such as Hillary Duff, Justin Timberlake, and Lorenzo Lamas.
All applications can be sent to Slade@derfmagazine.com.
Parties, concerts, nightlife, benefits, art, wine, sports, theater, and more.
Monday Apr 6
Opening Day and Findlay Market Parade
Wednesday Apr 8
Cincinnati Flower Show
Thursday Apr 9
Tunes & Blooms FREE concert series
More Events»