our breathtaking newsletter
Weekly gloriousness sent to your inbox.
Monday, April 6th - 1:00 PM-1:00 PM

DERF Happy Hour
Keep checking back here to find out where the next DERF Happy Hour will be!
Lifestyle blog with Slade Dandridge
Iíve never needed a single item from Bed, Bath, & Beyond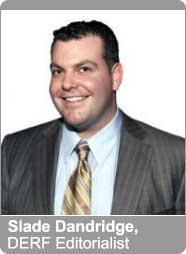 I've been to Bed, Bath, & Beyond numerous times. I've been there with girlfriends and I've even visited the store by myself in search of a miscellaneous organizing item. But I have never purchased a single item at Bed, Bath, & Beyond because almost everything in the store is useless! In fact the products are not only useless, they're hilariously useless. Below I list and discuss just a few examples of items I have noticed at Bed, Bath, & Beyond that I feel compelled to talk about. These items actually exist and people actually buy them....I think:
Banana Holder –

I notice this little gem every time I go to Bed, Bath, & Beyond. Are there banana holders in households all over America? Sadly, I think there are. But I have never seen one in anyone's house or anywhere else except on the shelves at Bed, Bath, & Beyond. If you have one please throw it way today. The proliferation of banana holders must stop.
Coral-Shaped Quilted Table Mats –

What? If anyone has ever bought a set of these please email me and tell me why. I asked one of the cashiers who buys these and she said lot's of people. I have never seen a set of these in anyone's house.
Soap Dispenser with Sponge Caddy by Nicole Miller –

Really? Designer soap dispenser? Thank you Nicole Miller for making this possible. Seriously I don't get the soap dispenser concept. Liquid soap already comes in a dispenser. So we buy one dispenser and pour the liquid soap from it into another more stylish dispenser? What about laundry detergent? Should it go into a Kate Spade designer laundry jug? Do we need a designer mulch container? Where does it end?
Rotating Tie Rack (illuminated) –

Right. I need this so bad. I don't care if a man has 200 ties. He doesn't need a rotating machine to display them. And I assume the illumination is for men who's closet areas have no lighting? These things have been around forever but Bed, Bath, & Beyond seems to sell more than anyone. My question is how many of these are purchased, brought home, and never taken out of the box? I say 82.6%.
Crème Brulee Torch –

Note to all of my friends: Please punch me in the face if I ever buy one of these. I guess there are people out there who are crème brulee lovers but this still feels ridiculous. If I ever come to your house and discover you have one of these we are going to sit down and have a little talk. And then I will punch you in the face. Then I will take your crème brulee torch and use it to destroy your rotating tie rack.

Two Things They Don't Have - Actual beds or baths. Interesting. They've apparently decided to focus only on the beyond. Probably no room for beds or baths due to all the banana holders. There are countless other weird and useless items at Bed, Bath, & Beyond like space bags, fondue sets, cedar closet chips, and silicone oven mitts - all items I could discuss here but there is simply not enough time. As all super successful magazine columnists like me know, we never get the time we truly need for any given topic. But we still hope our reader somehow gains a new enlightenment regarding the current topic. I hope you have gained a few moments of brilliant clarity here….especially about the banana holder.
Parties, concerts, nightlife, benefits, art, wine, sports, theater, and more.
Monday Apr 6
Opening Day and Findlay Market Parade
Wednesday Apr 8
Cincinnati Flower Show
Thursday Apr 9
Tunes & Blooms FREE concert series
More Events»