our breathtaking newsletter
Weekly gloriousness sent to your inbox.
Sunday, March 1st - 12:00 PM-4:00 PM

DERF Happy Hour
Keep checking back here to find out where the next DERF Happy Hour will be!
Lifestyle blog with Slade Dandridge
I can totally afford a prostitute like Ashley Dupre.....for about 2 minutes.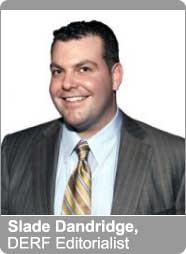 BY SLADE DANDRIDGE, DERF Lifestyle Editorialist

Ashley Dupre, Governor Spitzer's prostitute, works for $4,300 per hour. That's a bit more than I am willing to pay right now. I am a very successful and highly popular magazine columnist so it's not like I'm having financial problems or anything. It's just that I don't really need a whole hour. I've never spent a whole hour of intimacy with any woman at one time. For me a whole hour would consist of 2 minutes of intimacy and 58 minutes of sleep which I normally get for free. But if Ashley would be willing to charge by the minute I think we could come to some sort of a win-win arrangement. By my calculations a couple minutes would cost about $143. I would definitely be comfortable with that amount plus possibly a small tip.

If Ashley insists on a whole hour, I do think there may be a way we could make it work. If she would be willing to spread the hour over about 18 months. I would be happy to prepay her the entire $4,300 initially and then after each visit we would sit down together and subtract $143 from the current balance. My phone has a calculator so we'd probably use that to ensure accuracy. She could use the calculator on her phone too then we could compare answers on each of our phones to make sure we calculated the right balance. If my wife ever called while Ashley and I were doing our calculations, I would show Ashley my phone screen and we'd probably get a good laugh out of it. Then I'd say in a mock serious voice pretending to answer the phone, "Hi honey, I'm working on the family finances. I just made a deposit and I'm calculating the balance." Then Ashley and I would have another little chuckle together. Ashley has always appreciated my sense of humor. She says it turns her on when I make her laugh. That's not surprising because I'm a highly successful and popular humor columnist. I'm pretty sure deep down Ashley would like to have a serious relationship with me but for now I think it's best we keep it the way it is so we don't ruin what we have.
Parties, concerts, nightlife, benefits, art, wine, sports, theater, and more.
Friday Feb 28
Jungle Jim's Whiskey Trail
Sunday Mar 1
Ohio Winter Food Festival
Thursday Mar 5
Cincinnati International Wine Festival
More Events»