our breathtaking newsletter
Weekly gloriousness sent to your inbox.
Sunday, January 26th - 11:00 AM-5:00 PM

DERF Happy Hour
Keep checking back here to find out where the next DERF Happy Hour will be!
Lifestyle blog with Slade Dandridge
The Russian Ice Dancing team inspired my Casual Friday outfit.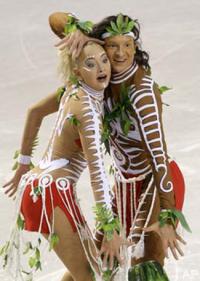 Being a well respected, highly influential, and extremely beloved columnist, I always do everything I can to look my best. I stay on top of the latest fashion trends as I peruse the stars in people magazine. I also keep in touch with the fashion world by never missing an episode of Project Runway, and I've sent several letters to Heidi Klum recommending outfits for her to wear on the show.

Not only can I attribute my clean sharp look to staying aware of trends, but I also am quick to buy the newest line of garments as soon as they are announced by the good folks at the George Foreman Big and Tall house of style. The time between George being inspired by his muse to create the garment until it is displayed on my handsome frame is always very brief. Especially if I pay three bucks extra for shipping.

Indeed, l am able to dress up, but I am also one of the privileged few who can dress down and still look extremely stylish. My polo shirts look great whether I have my collar up or down. They even look great when I have one collar up and the other one down. My jeans set off any ensemble with the way they ruggedly hug my form, and for special occasions, I always make sure that they are crisply ironed. The same holds true in the summer when I switch to cut-offs.

Needless to say, after getting a temporary job at the US Census, I immediately became known around the office not only as the witty guy. Not only as the famous columnist who has graced the office with his presence in order to serve his country and make a little extra money to pay off his outstanding parking tickets and avoid being taken to court by his gym. I'm also known as the office fashionista. Oh, and also as the guy who always gets to the Monday morning donuts first.

Though the office is already rather casual, on Friday you can really let it all hang out. Many of my coworkers go from dressing in satin jogging suits the rest of the week to wearing plain old sweat pants and sweat shirts. I'm not complaining, the point of the day is to achieve your own level of casual. My level of casual, however, still includes a great deal of style.

Much like an artist will achieve inspiration by gazing on a sunset, my artistic fashion sense has been given wings after watching the winter Olympics. Those ice dancers not only put on a heart tugging show that often leaves me in tears, they also wear some of the most fashion forward sports uniforms the world has seen since the Chicago White Sox wore shorts for half a summer.

There was a Russian team in particular that really caught my eye, as they honored the proud history of the Australian Aboriginals by donning skin tight flesh colored suits featuring tribal markings and faux leaves. In the tradition of the Olympics bringing the nations of the world together, I shall be replicating their outfit to honor not only Australian Aboriginals, but sassy ice dancers from Russia.

Sure, I may get a few perplexed looks from my fellow office workers as I stride to my cubicle wearing a tan body suit covered in a white skeletal pattern and sequined fern leaves. Perhaps some may even snicker at my the red loin cloth that brings the outfit together. But I shall be extraordinarily comfortable, casual, and fashionable all at the same time...a veritable bronze, silver and gold medal all wrapped up in a beautiful lycra package.
Parties, concerts, nightlife, benefits, art, wine, sports, theater, and more.
Sunday Jan 26
Pedaling for Paws
Sunday Jan 26
Cincinnati Travel, Sports & Boat Show
Saturday Feb 1
Winter Bonanza 2
More Events»