our breathtaking newsletter
Weekly gloriousness sent to your inbox.
Saturday, June 23rd - 7:30 AM-12:00 AM

DERF Happy Hour
Keep checking back here to find out where the next DERF Happy Hour will be!
An Open Letter to T-Pain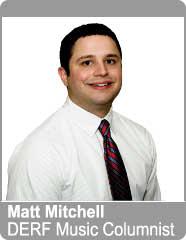 By Matt Mitchell
Derf Music Writer

Dear Mr. Pain,
Do you go by the name T-Pain? Or possibly one of your many aliases (Teddy Pain, Teddy Penderazdoun, Teddy Verseti, Tallahassee Pain, Tallahassee Hero, Nappy Boy, TP.) Consider this letter a cease and desist order. Please refrain from producing, "rapping", sanging as you call it, or being a part of a "colabo." I personally can take no more, and I am surely not alone.

The first time I heard your voice, in your club banger "I'm Sprung" a voice from my past came into my mind. However, I couldn't put my finger on it. So I decided to listen to your entire debut album "Rapper Ternt Sanga." At first I had no idea what those words meant, or if in fact they were real words (turns out it means Rapper Turned Singer...how clever Mr. Pain). None the less I sat through the entire album grinding my teeth trying to decipher where I heard this rather eccentric voice before. Then I realized that you have the exact same voice as that really annoying program on computers, Bonzi Buddy. See, while the both of you piss me off beyond belief, I can delete Bonzi from my PC. Unfortunately for my sanity's sake, I cannot delete you, TP, from the countless bars, clubs, or radio stations that play your "songs."

Staying with the subject of your voice, I noticed a few other interesting nuances. I found your voice to also be very similar to another one of my least favorite people, Paris Hilton. Is this because those hideous voices of the two of you are in fact more computer generated than a Mariah Carey album cover? Honestly, the movie "Beowulf" has a more authentic feel than that binary voice of yours. I would rather hear Gilbert Godfrey cover a Celine Dion album, or any of the Kidz Bop albums than this disaster.

Of course, going hand in hand with my lack of confidence for the Grammy's you naturally came out a winner this year! Not coincidentally this was not for a song you wrote, or even really starred in, but hey Scottie Pippen won titles too right? I couldn't help but notice that your signature voice didn't come out in interviews however. I guess everyone has to keep their instrument in fine tune.

Being an optimist, I can find the best in every person, place or thing (except you Dakota Fanning.) Anyway, I will say that unlike other artists, you don't mince words or cut corners when it comes to getting what you want. Hey even I can respect a guy who has the balls to perform in a song with a title like ""I'm N Luv (Wit A Stripper)", which was naturally followed up by remixes. Then you had the mental fortitude to ask the question all of us have asked time and time again, in colabo entitled "Who the F@*% is That?" Also you truly are a man of the people, as proven by the song you wrote for all the myspace lovers out there, geniously titled "What's Your Myspace?" Of course my personal favorite was the song you released with Florida Artist J-Shin, called "Send Me An E-Mail" you are a man with direction sir. I can only assume that soon you will write songs with titles such as "The Milk has Gone Bad" and/or "Did U Take Out the Trash?"

I am just asking for one year to enjoy real musicians without distraction. I know that I cannot go back in time to erase you ever singing (believe me if I could I would.) But I can ask for one year of peace. And yes, before you ask, this letter has also been submitted to Akon, and Fergie. And when this is all said and done I would like to buy you a drink and let this all be in our past. Wait, I'm sorry, I would like to "Buy U a Drank."
Parties, concerts, nightlife, benefits, art, wine, sports, theater, and more.
Saturday Jun 23
Hyde Park Blast
Sunday Jun 24
Hype Park Blast
Thursday Jul 12
TEDxCincinnati Main Stage Event 2015: Accelerate
More Events»