our breathtaking newsletter
Weekly gloriousness sent to your inbox.
Sunday, April 22nd - 11:00 PM-5:00 PM

DERF Happy Hour
Keep checking back here to find out where the next DERF Happy Hour will be!
My All-Time Favorite Local Music Venue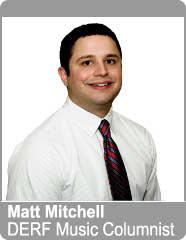 By Matt Mitchell, DERF Music Columnist

It took me a while to learn to appreciate the Southgate House as a quality local music venue. I live on the Ohio side of the river so maybe that created a bias for me. But after a few years of seeing great shows at the Southgate House I am now sold in many ways. The Southgate House is a great place to see original live music.

If you don't believe me ask just about any band that has ever played there. The Southgate House is universally beloved by bands all over the country. It has a memorable feel to everyone who plays and listens there. About a year ago I was sitting in the Johnny Rockets restaurant at Newport On The Levee and four guys in a band happened to sit at a booth within earshot of me. Don't quote me but I think they were called 'She Said No Golf'. They were touring around the country in a van playing small venues all over the country. They told me if they couldn't get hotel rooms for under $29, they slept in the van. Beautiful. Anyway, they couldn't say enough about the Southgate House. They said other bands love it also. I have often heard bands speak fondly of SH.

The first thing I like is the Southgate only presents original acts which is really what we really need in Cincinnati. But everyone already knows this. I know girls like to shake their butts when they hear Bon Jovi's 'Livin' On A Prayer' for the 500th time but how about once in a while hearing the what might be the next Coldplay or U2. Many bands appearing at the Southgate House have already or will soon be signed by major record labels. The list of huge acts that once toured through SH is impressive. Look at the list of upcoming acts on their website. It is always amazing.

Second, the physical facility itself is a great place to hear music. The Ballroom at the Southgate House is big enough to sound way better than a bar. The shape and size of the room can give an act some real scale. You really feel like you are at a concert in that room.

Other local venues like Bogart's are fine but a strange thing about Bogart's specifically is that it is owned by a huge conglomerate called Live Nation. Most people probably don't know that. Live Nation also owns Riverbend I believe. Honestly I don't have time to check all my facts regarding who owns who but this is my best attempt right now without further fact checking. When you are attending a show, Bogart's somehow manages to maintain the feel of a locally owned joint. But if you try to reach someone who owns or manages the venue, it feels quite different. Personally I have nothing against large conglomerates but I have often tried to call Bogart's to talk to someone about questions about an upcoming act or about possibly writing a review but I have never once reached a real person. They have a typically corporate voicemail system and just as you would expect with those type of systems, no one has ever called me back. Locally the music community is pretty small so to never return a phone call is just a little weird if you ask me. When you xall the Southgate House, someone calls back. Plus you might even get a free beer out of it once in a while. You can see why music lovers shun the conglomerate approach when it comes to venues.

So that's my pitch for SH. I recommend checking it out. No, SH has not paid for this. It's just a great local music joint.
Parties, concerts, nightlife, benefits, art, wine, sports, theater, and more.
Sunday Apr 22
Oakley Pup Crawl
Wednesday Apr 25
Wild About Wine
Thursday Apr 26
Tunes & Blooms FREE concert series
More Events»