our breathtaking newsletter
Weekly gloriousness sent to your inbox.
Saturday, May 26th - 1:00 PM-1:00 PM

DERF Happy Hour
Keep checking back here to find out where the next DERF Happy Hour will be!
200 Free Bunbury Festival Tickets
Expired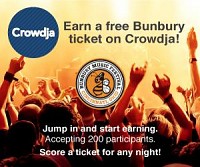 HIT 2 BUTTONS & YOU'RE ENTERED TO WIN

[Check your spam filter for an email from Derf.]
Prize Summary
Prize: Bunbury Ticket Valued at: $50
Prize Description
You're invited to earn a Bunbury Festival ticket
. We're giving the tickets away on our new startup site called Crowdja which

helps companies streamline promotions.
Jump in here:
http://www.crowdja.com/create_account.php
This is not a contest. The first 200 people that sign in get a
Bunbury
ticket after meeting the promo goal.
The Crowdja site provides items for you to easily share about Bunbury to earn points toward earning your ticket....all from one place on your Crowdja homepage.

Feel free to post this link anywhere or share this info with anyone who wants a Bunbury ticket.
We have 200 tickets so the promotion closes after 200 people sign in.

Next week we will send a promo invite out for the Buckle Up festival. Feel free to join both promos.

Crowdja is still in the beta test phase so expect to see a few glitches. But upgrades will be happening daily.

Email info@crowdja.com if you have any questions.
Contest Expires
Tuesday, July 1 at 1:00PM
Winner(s) Selected & Notified by Email
Tuesday, July 1
Parties, concerts, nightlife, benefits, art, wine, sports, theater, and more.
Friday May 25
Cincy Fringe Festival
Saturday May 26
Taste of Cincinnati
Friday Jun 1
Bunbury Music Festival
More Events»