our breathtaking newsletter
Weekly gloriousness sent to your inbox.

Wednesday, December 11th - 11:30 AM-10:00 PM

DERF Happy Hour
Keep checking back here to find out where the next DERF Happy Hour will be!

Email To Friends
| |
Depressing & Uninspiring. Every Wednesday.
Send to friends to ruin their day too.
Wednesday, December 4th
There are people in your life who love to see you fail miserably at everything you do. You've been making them really happy. Keep up the good work.

Aries

Step forward and make your voice heard. Unless you were choking on something when you were a kid and someone had to perform an emergency tracheotomy on you and it destroyed your voice box. In that case maybe carry a Sharpie around with you and communicate that way.

Taurus

Someone in Canada is thinking about you right now. Actually, they are looking at pictures of you that your ex just posted on the internet. Nice thong.

Gemini

Your dentist will miss a few problems during your next visit. He enjoys the nitrous oxide even more than you do.

Cancer

Your unlucky number is anything under 1 billion.

Leo

You finally have a reason to celebrate. All of the restraining orders filed against you expired this week! Treat yourself to something nice. Then get started on screening some fresh new stalking victims.

Virgo

On your next trip to the track, bet on the number two horse. It isn't going to win, but you will find a new love who adores the way you scream, Deuce! C'mon deuce!

Libra

Someone is going to slip something in your drink at the bar. Luckily, you are such a raging alcoholic that you did not even notice.

Scorpio

It might be hard to find a support group for people with 10 or more DUIs. To find a group you might have to lie an say you're still at a half dozen or so.

Sagittarius

You are becoming overwhelmed by guilt. Father, turn yourself in to the Archdiocese.

Capricorn

There is reason to believe that your home is haunted. Luckily, the ghosts don't want to be around you any more than living people do...so they just keep to themselves in the utility closet.

Aquarius

You will be visited in your dreams by a mythical lion who will tell you the secret to eternal happiness. You will then be visited while awake by a real lion who will maul and eat you.

Pisces
Previous Weeks:
Tuesday, December 3rd
Friday, November 22nd
Thursday, November 14th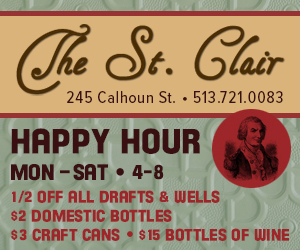 Parties, concerts, nightlife, benefits, art, wine, sports, theater, and more.

Thursday Dec 12
Give Back Cincinnati Holiday Party

Friday Dec 13
Equilibrium
Saturday Dec 14
Ben Peterson Band
More Events»