our breathtaking newsletter
Weekly gloriousness sent to your inbox.

Friday, May 24th - 9:30 PM-12:00 AM

DERF Happy Hour
Keep checking back here to find out where the next DERF Happy Hour will be!

Email To Friends
| |
Depressing & Uninspiring. Every Wednesday.
Send to friends to ruin their day too.
Tuesday, October 2nd
There are so many negative influences out there. How do you avoid them all? While you work on answering this question remember most people you know have decided you are the worst negative influence in their life.

Aries

You're going to make a huge impression this week. Your butt is going to make a sweaty, deep, permanent impression on your couch cushion.

Taurus

If the lawn gnomes in your neighborhood ever decide to rise up and attack humans, you are first on their list. Double lock your windows and make sure to block the doggie door.

Gemini

You will soon be on a game show. The host is going to mock you, the audience is going to laugh at you, and there will be no parting gifts.

Cancer

As Jupiter aligns with Saturn, so shall your stomach hang down on top of and align with your thighs every time you sit down.

Virgo

This month you will unknowingly repulse a Leo and Capricorn so severely they will vomit. Their vomiting will in turn make a Gemini and Sagittarius vomit. This cycle will continue until most people in your community will be hospitalized with severe dehydration.

Libra

When facing difficult choices, we recommend making informed decisions?.at least as much as you can with a G.E.D.

Scorpio

Your frequent visits to several human trafficking websites has not gone unnoticed. You should do your research from the computers at Kinko's.

Scorpio

The co-workers you carpool with have given up on finding an air freshener strong enough to mask your odors. Be prepared for a confrontation.

Sagittarius

Make sure you take that smut out of the DVD player before your next dinner party. Your guests won't be offended, they will want to reenact the movie scene by scene, and you are not going to like your part.

Aquarius

How many times do you think you could be punched in the stomach consecutively without throwing up or passing out? This is a question that is about to be answered.

Pisces

You will soon be coming into some money. You'll find a five dollar bill on the street that a rich person just blew their nose into.

Pisces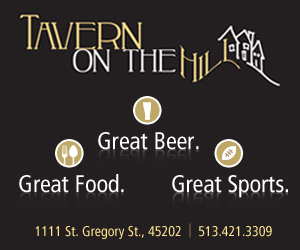 Parties, concerts, nightlife, benefits, art, wine, sports, theater, and more.

Wednesday May 22
Memorial Day Weekend @ MLT and MILLION$!

Thursday May 23
CINCINNATI 2020...LIVE! From Vision to Reality: Jewish Federation's 117th Annual Meeting

Thursday May 23
Bacchanalian Cincinnati Wine Tasting
More Events»