our breathtaking newsletter
Weekly gloriousness sent to your inbox.

Wednesday, December 11th - 11:30 AM-10:00 PM

DERF Happy Hour
Keep checking back here to find out where the next DERF Happy Hour will be!

Email To Friends
| |
Depressing & Uninspiring. Every Wednesday.
Send to friends to ruin their day too.
Wednesday, December 19th
Venus and Mars will move to Scorpio and ask you to help. You'll end up getting stuck with heavy stuff like dressers and the sofa, while they carry lamps. Politely decline

Aries

A casual stroll will add great vibes to your soul, and great sweat stains your armpits.

Taurus

Getting the feeling you're being treated like a doormat again? It's good that you have the sensitivity to understand when you are being disrespected. But also you should stop wearing that t-shirt that says 'Welcome'.

Taurus

That puppy you think you bonded with yesterday at the rescue shelter is praying you don't come back to adopt him. Don't take it personally but he just didn't feel the same way about you as you did about him.

Leo

Your lucky numbers this week are t, q, m, s, and h. Yep, you're lucky numbers are just as confused as you are.

Leo

Car part prices, mustache grooming equipment, and certain farming principles. Regarding everything else, always seek the advice of a qualified professional.

Leo

How long are you going to let that hair grow out of the mole on your neck? Either clip it, or braid it before someone else does.

Virgo

The good news is there is a company that would like to hire you. The bad news is it's Time Warner Cable. We recommend passing on the job. Working for the worst run company in the United States will be worse for your resume than continued unemployment.

Scorpio

You have the heart of a lion. It is in your freezer in aluminum foil. The sticker on it might say, ?Ground Beef?, but trust us, it is lion heart.

Capricorn

Find a quiet calm in the storm by turning to the beauty of nature. Get a real good look at that flowered garden because it is about to be carried away by a twister.

Aquarius

There is reason to believe that your home is haunted. Luckily, the ghosts don't want to be around you any more than living people do...so they just keep to themselves in the utility closet.

Aquarius

Describing your pet as a rescue is not impressing your friends. They know you would never climb down a well to rescue anything.

Pisces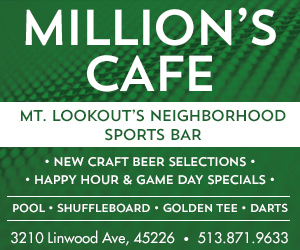 Parties, concerts, nightlife, benefits, art, wine, sports, theater, and more.

Thursday Dec 12
Give Back Cincinnati Holiday Party

Friday Dec 13
Equilibrium
Saturday Dec 14
Ben Peterson Band
More Events»