our breathtaking newsletter
Weekly gloriousness sent to your inbox.

Friday, May 24th - 9:30 PM-12:00 AM
DERF Happy Hour
Friday, Jun 21 - 5:30PM-9:30PM

Email To Friends
| |
Depressing & Uninspiring. Every Wednesday.
Send to friends to ruin their day too.
Thursday, December 27th
Third time's a charm. Hopefully this will hold true for you third attempt at the G.E.D test. Our recommended celebrity tattoo for you is Richard Grieco.

Taurus

Someone recently told you if you're not part of the solution, you're part of the problem. You should tell them you've successfully been a part of neither for a long time.

Taurus

Your dreams are going to be filled with many images of lesbian ducks. This is your subconscious telling you to shower more often. Listen to your subconscious.

Gemini

Your neighbors are not impressed that you bought a Segway to reduce your fuel costs. In fact they think you're gay now. You can reverse the gay reputation by chopping a pile of wood in your front yard this weekend. And sell the Segway.

Libra

Step forward and make your voice heard. Unless you were choking on something when you were a kid and someone had to perform an emergency tracheotomy on you and it destroyed your voice box. In that case maybe carry a Sharpie around with you and communicate that way.

Scorpio

Watch for hidden messages in Brady Bunch reruns. The message will be hidden in Mike Brady's perm.

Scorpio

The person who occasionally breaks into your house to use your toothbrush has just developed a fascination with your underwear drawer.

Sagittarius

On the fence again? For you thats a more of a literal expression because you got wasted and passed out while climbing over a fence to take a shortcut home.

Capricorn

By the time you get home from work today your wife will have ended one affair and started another. We can barely keep up with the worthless tramp. You need to put the smack down on that bizotch asap.

Capricorn

Loved ones will soon be turning away from your cries for help. Try crying for help in a slightly deeper voice, the high pitch makes their skin crawl.

Aquarius

How long are you planning to leave that expired milk in the refrigerator? It is going to sprout legs and eat start eating the other food.

Pisces

You will soon be coming into some money. You'll find a five dollar bill on the street that a rich person just blew their nose into.

Pisces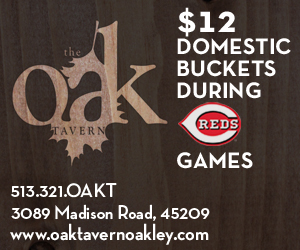 Parties, concerts, nightlife, benefits, art, wine, sports, theater, and more.

Friday May 24
May Summer Band Lineup at Mt. Adams Pavilion

Friday May 24
Tim Mcgraw Ticket Giveaway

Sunday May 26
Righteous Room Memorial Day Party
More Events»