our breathtaking newsletter
Weekly gloriousness sent to your inbox.

Tuesday, May 21st - 6:00 PM-2:30 AM

DERF Happy Hour
Keep checking back here to find out where the next DERF Happy Hour will be!

Email To Friends
| |
Depressing & Uninspiring. Every Wednesday.
Send to friends to ruin their day too.
Tuesday, January 22nd
Your Mom is thinking of getting rid of your old baseball cards. She's not going to throw them out, she's going to sell them and use the profits to buy a pony.

Aries

The stars are perfectly aligned for you to receive a fast food meal with 34% less bacteria than usual.

Taurus

Next time the hostess asks if you want a table or a booth, it is a sign of impending doom. Scream loudly and run from the restaurant immediately.

Taurus

If you are going to lead the resistance, you must first show the other employees of Popeye's Chicken that you are not afraid to stand up to company management. Your courage will earn the respect of chicken workers everywhere.

Gemini

Your lucky numbers for the week are hidden in your supervisor's back hair. Search carefully, but search soon because there is a waxing in his future.

Virgo

You need to make more time for yourself. There are 24 hours in a day, and you only think about yourself 23 and a half.

Virgo

On your next trip to the track, bet on the number two horse. It isn't going to win, but you will find a new love who adores the way you scream, Deuce! C'mon deuce!

Virgo

There are times when it is best to let the universe take care of everything. Washing your hair is not one of those situations. For goodness sake start lathering, rinsing and repeating.

Capricorn

The stars are about to align perfectly for your luck to be at its peak. It will occur for a half hour time frame, but you will be too busy watching a Saved By The Bell rerun to notice.

Capricorn

Thinking about researching your family tree? Our advice is stay away from the Kentucky side of the tree. You might find that your spouse is really a sibling.

Aquarius

Make sure you take that smut out of the DVD player before your next dinner party. Your guests won't be offended, they will want to reenact the movie scene by scene, and you are not going to like your part.

Aquarius

Like an old dog, you are reluctant to learn new tricks. Also like an old dog, you are flatulent and your fur has seen better days.

Pisces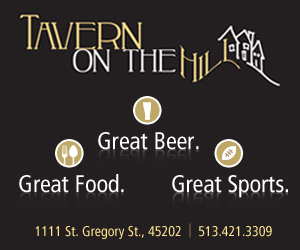 Parties, concerts, nightlife, benefits, art, wine, sports, theater, and more.

Thursday May 23
CINCINNATI 2020...LIVE! From Vision to Reality: Jewish Federation's 117th Annual Meeting

Thursday May 23
Bacchanalian Cincinnati Wine Tasting
Thursday May 23
Heineken Star Bottle Release Party at Igby's
More Events»