our breathtaking newsletter
Weekly gloriousness sent to your inbox.

Friday, May 24th - 9:30 PM-12:00 AM

DERF Happy Hour
Keep checking back here to find out where the next DERF Happy Hour will be!

Email To Friends
| |
Depressing & Uninspiring. Every Wednesday.
Send to friends to ruin their day too.
Wednesday, January 23rd
Soaking your parakeet in motor oil to make him empathize with less fortunate wild birds who are victims of an oil spill was not a good idea. Showing him pictures on the intranet may have been a better option.

Aries

Use a civil tone when addressing your enemies this week, but go ahead and scream at your parents for no reason. They deserve it for making you into the empty shell that you are.

Leo

The next knock on your door will bring a delightful surprise. The knock after that will be a team of repossession professionals to take it away.

Leo

You feel very connected to your sibling. This is natural because you are a Siamese twin.

Libra

You are going to produce a sweat stain on your date's couch that looks like the Mona Lisa. Take a picture of it, then get out of there quick before anyone notices

Scorpio

There will be a sewer backup in your neighborhood soon. It will take your neighbors a week to realize the smell is something other than you.

Sagittarius

Don't eat any shellfish between now and August 15th 2011. Unless you're a big fan of having your face swell up like a balloon, then dive right in.

Sagittarius

Don't hide dead Capricorns in your car trunk this week. You're going to need your spare tire when you get a flat while evading a bookie you still haven't paid from your losing Superbowl bets.

Sagittarius

You are nurtured by the earth, air, and water. Heroin is a product of all these things so there's no reason to feel guilty about your continued abuse of this totally natural product of the earth.

Capricorn

Your current relationship isn't going to work out, but go ahead and have their name tattooed on your stomach. It will be a classy touch.

Capricorn

Pause to reflect on a sunset today, but make sure to get back home before it is fully dark. There are a half dozen people in your neighborhood dying to jump a sunset starer.

Aquarius

If you're feeling a bit down, here's a quick pick-me-up idea. Bring that dog you've been neglecting to an animal shelter. They'll find a nice new family for him and you'll feel a lot better.

Pisces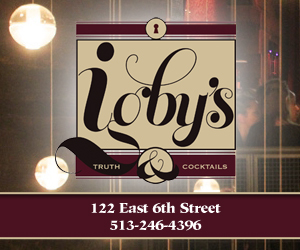 Parties, concerts, nightlife, benefits, art, wine, sports, theater, and more.

Thursday May 23
CINCINNATI 2020...LIVE! From Vision to Reality: Jewish Federation's 117th Annual Meeting

Thursday May 23
Bacchanalian Cincinnati Wine Tasting
Thursday May 23
Heineken Star Bottle Release Party at Igby's
More Events»