our breathtaking newsletter
Weekly gloriousness sent to your inbox.

Wednesday, December 11th - 11:30 AM-10:00 PM

DERF Happy Hour
Keep checking back here to find out where the next DERF Happy Hour will be!

Email To Friends
| |
Depressing & Uninspiring. Every Wednesday.
Send to friends to ruin their day too.
Tuesday, January 29th
Stay away from Disney World. The guy in the Mickey Mouse suit has a rare disorder that can only be triggered by your pheromones. One whiff of you will cause him to be covered with boils so large they pop through his costume.

Taurus

The guy who keeps staring at you at the coffee shop thinks you sent him a nude photo in response to his ad on Craigslist. The staring will continue until you buy him a large mochachino as a gesture of good will.

Taurus

A bump on the head causes a loss of memory, but another bump brings it back, You have no recollection of either incident.

Taurus

Don't try to fill your idle time with any useful pursuits. Being idle is your strong suit.

Leo

Take some time to find out more about yourself this week. Use the freedom of information act to request your FBI file.

Virgo

A clean living space will clear your mind. Ask your roommate at the Talbot House to join you in tidying up your bunks today.

Libra

A surprise visitor is going to greet you with wonderful news. However, the visitor is going to surprise you to the point that you'll pass out and not hear what they have to say.

Libra

Giving up caffeine is a good idea. But suddenly replacing that daily energy jolt with meth amphetamines is bad choice. Start with Redbull and work your way up

Libra

You're going to make a huge impression this week. Your butt is going to make a sweaty, deep, permanent impression on your couch cushion.

Sagittarius

You are becoming overwhelmed by guilt. Father, turn yourself in to the Archdiocese.

Capricorn

If the lawn gnomes in your neighborhood ever decide to rise up and attack humans, you are first on their list. Double lock your windows and make sure to block the doggie door.

Aquarius

The good news is someone is going to buy you a gift you will really need. The bad news is it is a book entitled, 50 Things to do While Under House Arrest.

Pisces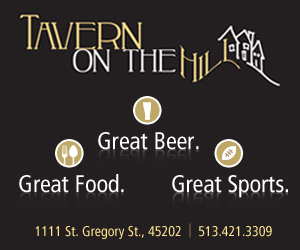 Parties, concerts, nightlife, benefits, art, wine, sports, theater, and more.

Thursday Dec 12
Give Back Cincinnati Holiday Party

Friday Dec 13
Equilibrium
Saturday Dec 14
Ben Peterson Band
More Events»