our breathtaking newsletter
Weekly gloriousness sent to your inbox.

Wednesday, December 11th - 11:30 AM-10:00 PM

DERF Happy Hour
Keep checking back here to find out where the next DERF Happy Hour will be!

Email To Friends
| |
Depressing & Uninspiring. Every Wednesday.
Send to friends to ruin their day too.
Wednesday, October 30th
When you hear a ticking clock, think of how each second of your life is an opportunity. You also might want to investigate where that ticking is coming from, you are not immune to bomb threats.

Aries

A casual stroll will add great vibes to your soul, and great sweat stains your armpits.

Taurus

The pedestrian you hit this week lived. Also the old geezer memorized your license plate number. You still have time to ?pay him a little visit' at Good Samaritan hospital.

Gemini

Get the feeling you and you're job are morphing into a single entity? This is why you smell like four-day old frying grease at Popeye's Chicken. How about a shower once in a while?

Cancer

Alien beings in a far away galaxy studied you intently last year. They came to the conclusion that Earth contains no intelligent life smarter than the tapeworm.

Leo

The next knock on your door will bring a delightful surprise. The knock after that will be a team of repossession professionals to take it away.

Virgo

Having difficulty finding people to invest in your business idea? The business of organ harvesting is not for every investor. Don't give up. There's a market for healthy organs taken illegally from unsuspecting drunk guys staying at the Motel 6.

Libra

You should consider getting a pet from an animal shelter. Just make sure to bring a friend along, because the staff may try to cage you for not having all your shots.

Scorpio

The co-workers you carpool with have given up on finding an air freshener strong enough to mask your odors. Be prepared for a confrontation.

Sagittarius

There was a time in your elementary school days where you were considered extremely attractive. It began on a Monday afternoon and ended the following Tuesday. Hopefully, you enjoyed it, because it will never happen again.

Capricorn

You need to get in touch with your natural instincts, and learn to start ignoring them. They've only gotten you into trouble so far.

Aquarius

This week you will have several moments of self-doubt. Each and every one of them will be based in hard fact. Spend as much time as possible hiding under the covers.

Pisces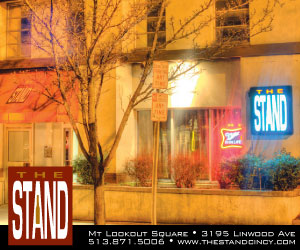 Parties, concerts, nightlife, benefits, art, wine, sports, theater, and more.

Thursday Dec 12
Give Back Cincinnati Holiday Party

Friday Dec 13
Equilibrium
Saturday Dec 14
Ben Peterson Band
More Events»