our breathtaking newsletter
Weekly gloriousness sent to your inbox.
Wednesday, April 8th - 9:00 AM-7:00 PM

DERF Happy Hour
Keep checking back here to find out where the next DERF Happy Hour will be!
AutoZone store inadvertently blessed by Crossroads Community Church.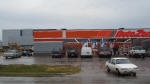 OAKLEY - AutoZone employees reported last weekend the store was temporarily blessed during a Crossroads Sunday ceremony. Sitting in close proximity to the sprauling Crossroads campus, experts believe the Autozone store likely received what is believed to be a stray blessing. Crossroads officials explained they are still, "working out the logistical kinks" within their new more powerful $20 million stadium-like facility. Also, Crossroads officials said they plan to be more precise during ceremonies to ensure all blessings are contained within the Crossroads property limits. Other local businesses such as the BP Oil station across the street also report possibly detecting a blessing. Employees at all area Starbucks stores reported the stores felt slightly less evil than normal but definitely not blessed.