our breathtaking newsletter
Weekly gloriousness sent to your inbox.
Saturday, June 23rd - 7:30 AM-12:00 AM

DERF Happy Hour
Keep checking back here to find out where the next DERF Happy Hour will be!
Man first in family to receive Ohio Echeck certification.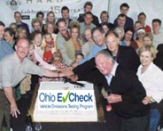 Deer Park - Family members of Jacob Stilgren celebrated this week after Stilgrenís 1991 Ford Focus successfully passed the Ohio Echeck test. Being the first member of his family to receive the coveted certification, Stilgren enjoyed sharing a custom baked beautiful Ohio Echeck cake purchased by his parents. With tears of joy in his eyes Stilgren addressed his proud family members by saying "I know we have all had great difficulty passing the Echeck test due to various emissions problems with our cars such as missing gas caps and faulty mufflers but today our family is redeemed. Let this be the first of many successful Echeck tests for everyone here!" Later as Stilgrenís official Ohio Echeck certificate was passed around for everyone to take their picture with, Stilgrenís Grandfather told the youngsters at the party a heartwarming story about how passing the Echeck test can have a positive impact of many future generations.