our breathtaking newsletter
Weekly gloriousness sent to your inbox.
Friday, July 26th - 12:00 PM-12:00 AM

DERF Happy Hour
Keep checking back here to find out where the next DERF Happy Hour will be!
Man Sets Record for Time Spent at Vending Machine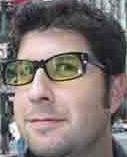 Amazed coworkers witnessed Jeff Salton of Norwood set a new world record by standing in front of the company vending machine for 74 hours and 32 minutes deciding on a snack. Salton was in a deep state of concentration while gazing across each row of snacks considering factors such as nutrition, taste, and cost. He pondered the time he tried to buy Bugles and the package got hung-up on the spiral dispensing mechanism. Eventually, Jeff decided on a Nestle Crunch bar but accidentally pressed the wrong button and purchased a roll of Lifesavers. He desperately asked his coworkers if he could borrow fifty cents but they tugged at their pockets conveying the "I'm out of change" message. In a brief statement to the media, Jeff said, "Because of the unfortunate outcome, this feels like it was a big waste of time."