our breathtaking newsletter
Weekly gloriousness sent to your inbox.
Saturday, May 26th - 1:00 PM-1:00 PM

DERF Happy Hour
Keep checking back here to find out where the next DERF Happy Hour will be!
Frito-Lay Announces New Single-Chip Travel Pack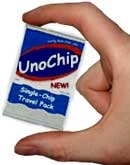 NEW YORK - Responding to increasing consumer demand for snacking convenience, Frito-Lay has launched the company's biggest product release ever. UnoChip is the world's first single potato chip travel pack.

As the innovative name suggests, each packet contains a single potato chip and is small enough to fit in a wallet or purse. Frito-Lay says the initial consumer response has been positive although initial shipments were recalled due to a quality control problem resulting in many packets containing 2-3 chips.

For traditional consumers who wish to consume more than a single chip, Frito Lay has developed the UnoBag which is a resealable bag that contains approximately 400 individually wrapped UnoChips.

Additionally, children will enjoy the miniaturized version of UnoChip called UnoChip for Kids which contains a chip that is about 50% the size of an adult size chip. Frito-Lay says initial consumer testing indicates mothers enjoy packing their childrens' lunch boxes with 30-40 individual UnoChip for Kids packets.

Frito-Lay Spokesperson, Susan Arnold said, "The UnoChip is an example of Frito-Lay's dedication to finding ways to increase value for our loyal consumers."

If successful, Frito-Lay hopes to create a new category in wallet-size snacks with planned releases for UnoNut and UnoPopcorn.
Related Stories