our breathtaking newsletter
Weekly gloriousness sent to your inbox.
Saturday, February 1st - 12:00 PM-2:00 AM

DERF Happy Hour
Keep checking back here to find out where the next DERF Happy Hour will be!
Purple People Bridge Climb replaced by Purple People Bridge Climb Museum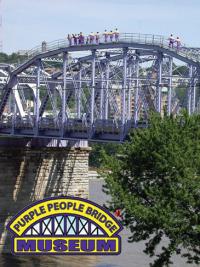 CINCINNATI – Founders of the closed Purple People Bridge Climb announced plans for the new Purple People Bridge Climb Museum. Cincinnati's newest museum will memorialize the original bridge climb as a cherished part of Cincinnati history. The new museum will be an exact replica of the original bridge climb and will be constructed in the same location.

"Our design painstakingly replicates every detail of the original Bridge Climb." said Museum Curator, Brad Larkins. Museum customers will be able to experience a part of history by actually climbing the bridge for a cost of $120. Although the cost is approximately four times the original cost, museum operators need the additional revenue to cover immense investment losses that resulted from the original failed Purple People Bridge Climb. The Museum Operators anticipate people will gladly pay the premium price due the nostalgic value the museum provides.

Museum Investor Lee Robinson commented, "People want to experience our city's past. The Purple People Bridge Climb was an important part of that past. People who were never able to climb the original Purple People Bridge now have a second chance." Planners say the entrance to the museum will contain a photo exhibit of the original Bridge Climb where attendees can learn about the rich history of the Bridge Climb. Souvenir photos and t-shirts displaying images of the original Bridge Climb will also be available.