our breathtaking newsletter
Weekly gloriousness sent to your inbox.
Saturday, June 23rd - 7:30 AM-12:00 AM

DERF Happy Hour
Keep checking back here to find out where the next DERF Happy Hour will be!
Local gangs integrate CinWeekly logo in gang graffiti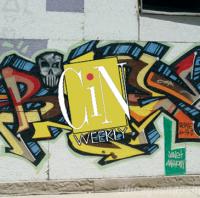 Police say CinWeekly fits the hardcore image sought by hardened gang members

CINCINNATI – Local police gang experts reported this week several area gangs have integrated the CinWeekly logo into their gang markings in an attempt to increase their hard-edged profile. Local gang members reportedly view the CinWeekly brand as the ultimate representation of hardcore gangsta. Gang grafitti spray-painted on structures throughout the tri-state area often features the CinWeekly logo placed within the artwork. Experts indicate it is typical for gangs to align themselves with brands that convey street-orientated urban toughness such as apparel brands including Timberland, Ecko Unlimited, Phat Farm, and Rocawear. A local gang leader commented anonymously, "CinWeekly is straight up gangsta. From cover-to-cover that sh** is hardcore. The writers at CinWeekly are spittin' mad game 24/7." Other than the monthly magazine Hyde Park Living, no other local publication has become so heavily associated with the urban gangsta lifestyle.
Local prison officials also report an increase in CinWeekly tattoos on inmates throughout the prison population. A local prison spokesperson said, "Inmates believe displaying the CinWeekly tattoo indicates a true commitment to gangsta culture. An inmate with a CinWeekly tattoo is effectively warning his rivals of his hardcore status. He is saying, 'I live by the CinWeekly street code. Step off or a get a beat down.' An association with CinWeekly helps inmates preemptively earn respect from rivals and thus avoid gang-related conflict within the prison system."