our breathtaking newsletter
Weekly gloriousness sent to your inbox.
Saturday, June 23rd - 7:30 AM-12:00 AM

DERF Happy Hour
Keep checking back here to find out where the next DERF Happy Hour will be!
New Smart Car fits inside iPod storage port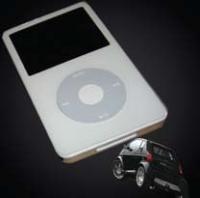 CUPERTINO, CA - iPod maker Apple Inc. announced this week it's next generation iPod is equipped with a port large enough to conveniently store the diminutive Mercedes Smart Car. Developers say this new 'Car Port' technology allows Smart Car drivers to easily maneuver the vehicle into the open port on the iPod. Once parked inside the iPod, the Smart Car can access music, videos, and the iTunes Music Store. Also, iPod owners can download additional Smart Cars from iTunes at the click of a button. Four other port locations on the iPod make it possible to store additional Smart Cars or other items such as the popular Segway scooter. An Apple spokesperson explained this innovation represents a departure from the traditional interaction between iPods and cars. "Apple's mission is to create technology that allows people to put everything inside their iPod. This allows the iPod to become what we like to call a "centralized life port". Industry observers say next year Apple may unveil 'iExist' which is a concept of iPod neighborhoods that allow entire populations of people to live together within a large iPod and totally immersed in their favorite music and videos.