our breathtaking newsletter
Weekly gloriousness sent to your inbox.
Monday, May 28th - 1:00 PM-1:00 PM

DERF Happy Hour
Keep checking back here to find out where the next DERF Happy Hour will be!
Meet the DERF baby!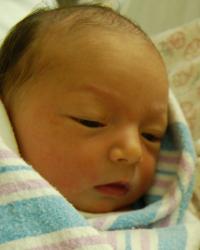 DERF Magazine has adopted a baby!
Congrats to us! Yes, DERF Magazine is a proud parent. We are the first American company to adopt a baby!

Here are a few FAQ's about the DERF baby:

Why did DERF adopt a baby? The corporate baby concept is an innovation that we believe will help establish DERF as a nurturing and caring company. This positive image is expected give us a strategic advantage in the marketplace. The bottom line is we hope advertisers will be more likely to do business with us when the see how cute our baby is and how responsible we are as a corporate parent.

Where does the baby live? The baby lives in our company headquarters. We converted the stationary supply room to a nursery. It can be little lonely for the baby on the weekends but the janitorial staff checks in on the baby periodically.

Does the baby have a name? Not yet. We hope to complete the naming initiative in he next two business quarters. We are currently compiling a list of names that have a high appeal amongst advertisers. Please send your ideas to Leslie@derfmagazine.com with BABY in the subject.

Does the baby get to enjoy the outdoors? Yes, we move the baby's crib outside to the employee smoking area during working hours. This also allows more interaction time between the baby and DERF employees, especially the smokers. On a couple occasions the baby was inadvertently left outside overnight. This was an unfortunate oversight we will try to avoid in the future.

How can DERF afford a baby? We're raising the baby with budget funds that were previously part of the employee health care plan. DERF employees understand that raising a baby requires sacrifice on everyone's part.

Will DERF adopt more children? We will make that decision after evaluating the business results delivered by the first baby.

What if your competitors begin adopting babies to gain their own strategic advantage? If this happens we will adopt a set of twins or triplets immediately.

What happens to the baby if the desired business results are not achieved? We would continue to care for the baby as long as budget funds are available until we can find a suitable family for the baby.

Does DERF have any other innovations planned to attract advertisers? Yes we are constructing a petting zoo in our corporate lobby next fiscal year.

GET EMAIL UPDATES - For more timely updates about the DERF baby subscribe to our email newsletter which we send out weekly.