our breathtaking newsletter
Weekly gloriousness sent to your inbox.
Saturday, February 1st - 12:00 PM-2:00 AM

DERF Happy Hour
Keep checking back here to find out where the next DERF Happy Hour will be!
R.P. McMurphy's unveils 900 car parking garage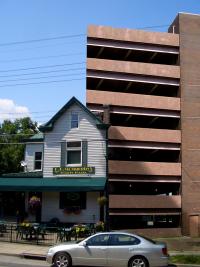 CINCINNATI - The popular Oakley pub R.P. McMurphy's unveiled a newly constructed 900 car parking facility this week. The massive six story facility was presented as a gift from the City of Cincinnati to the residents of Oakley. The structure replaces the small outdoor deck that was never approved for occupancy by the city.

City officials say the gift is intended as a reparation gesture for the unapproved deck. A spokesman for the Cincinnati Zoning Commission said, "We understand the hardship the Zoning Commission may have created within the community by not granting an occupancy permit for the deck. Hopefully Oakley residents and R.P. McMurphy's Patrons will consider this gift a sincere gesture of good will."

The parking facility will feature a vast network of covered skywalk structures linking it to the nearby Kroger shopping center, the Drexel apartment complex, the Oakley Library, the Brookstone apartment complex, and the Rookwood Commons shopping center. The structure will also feature several convenience services and amenities to be announced later.