our breathtaking newsletter
Weekly gloriousness sent to your inbox.
Sunday, December 15th - 5:00 PM-9:00 PM

DERF Happy Hour
Keep checking back here to find out where the next DERF Happy Hour will be!
Douche bags praise Starbucks price cuts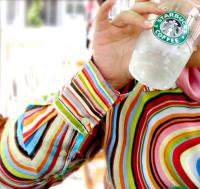 Associated Press - Douche bags across the nation who spend most of their day in Starbucks applauded the coffee retailer's move this week to lower coffee and food prices. The reduced pricing structure may encourage many douche bags to spend more time in Starbucks doing douche bag type things on their laptops and listening to Maroon 5 on their Zune devices.

"When I lost my job 14 months ago Starbucks became my second home. This is where I connect with people." said Rod Saltzman who's preferred beverage is a Decaf Vanilla Macchiato with Caramel Drizzle. After taking a break from this interview to update his Facebook status on his 2004 Sony Vaio laptop, Saltzman mentioned he has established close relationships with many of the Starbucks baristas and is considering becoming a barista himself. "At home I grind my own Costa Rican beans with a high-end grinder I bought from the catalogue on a Delta Airlines flight."

While uploading an interesting link about social networking to his Twitter account, douche bag Ricky Masterson said, "Starbucks is the hub of my community. More affordable pricing means I can enjoy an extra Iced Sugar-Free Cinnamon Dolce Latte while strategically interacting with peers and exchanging valuable ideas." When asked if people might consider that to be a douche bag thing to say, Masterson responded, "I have my own Wiki page and I do 200 stomach crunches a day before I even get to Starbucks. I think my contributions to the community speak for themselves."

Another douche bag who prefers to remain anonymous mentioned he read in an online discussion board that the White Chocolate Mocha Frappuccino doesn't pair well with the banana bread. He added, "I have a very refined palette. It's both a blessing and a curse."

Douche bag Lance Ralston paused a song by Taylor Hicks (American Idol season 5 winner) on his Zune and said he sits in Starbucks every day and writes his blog called Toledo Nightlife. "I often run into people who are flattered to meet the guy who runs the Toledo Nightlife blog. They are shocked when they find out I do it all over a few Espresso Skinny Hazelnut Lattes every day." Ralston says this year he plans to expand to other cities such as Akron and Youngstown and expects to be contacted by many large corporations interested in sponsoring his blog. Until this revenue stream materializes Ralston says he welcomes lower prices at Starbucks.
Related Stories