our breathtaking newsletter
Weekly gloriousness sent to your inbox.
Saturday, May 26th - 1:00 PM-1:00 PM

DERF Happy Hour
Keep checking back here to find out where the next DERF Happy Hour will be!
Ousted GM CEO appointed top position at AIG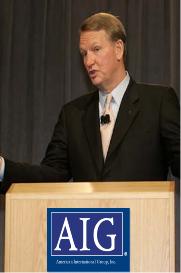 NEW YORK - As General Motors is left last week to find ways to lose money without CEO Rick Wagoner, reports indicate the White House has appointed Wagoner the CEO position at the troubled insurance giant AIG.

Interim AIG President Walter Robertson commented, "A company the size of AIG needs a CEO who understands the most efficient ways for a massive out-of-control juggernaut to lose millions per day and still stay in business for decades. We're counting on Mr. Wagoner to make good use of his experience in long-term controlled brand erosion of a global mega-conglomerate."

As part of a robust plan for continued fiscal mismanagement at AIG, sources indicate Wagoner plans to implement an over paid union labor force within the first 100 days. Automotive business analyst, Mark Etheridge said, "Rick Wagoner has more understanding than anyone about the cash-draining power of a large union labor force of overpaid and low-skilled American workers."

Reports indicate Wagoner has also been appointed the duty of reincorporating the bankrupt Enron company. Insiders say the White House believes the lessons from GM alone may not be enough to operate AIG. Many of the strategies that helped Enron officials keep corruption under the public radar may provide additional perspective for Wagoner in the continued attrition of AIG.