our breathtaking newsletter
Weekly gloriousness sent to your inbox.
Saturday, May 26th - 1:00 PM-1:00 PM

DERF Happy Hour
Keep checking back here to find out where the next DERF Happy Hour will be!
America's ice sculptures melting at alarming rate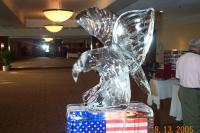 WASHINGTON, D.C. – The U.S. Environmental Protection Agency released a cautionary statement this week regarding the accelerated melting rates of America's ice sculptures. The agency cited facts from a recent study indicating within a decade the U.S. production of ice sculptures may not be able to keep pace with the melting of current sculptures. Experts say virtually all of America's original ice sculptures have melted and new replacement sculptures are being created daily.

Scientists say the warmer summer months are especially brutal for ice sculptures at outdoor banquets, wedding receptions, and corporate outings. Environmental researcher David Walker commented, "We are all reminded of the searing heat when we see a beautiful ice carving of a swan or corporate logo melting under the relentless afternoon sun."

Recent newlyweds John and Meredith Swenson were informed during their honeymoon that the ice swan at their reception had completely melted over night. "That $500 is gone. If we had known our swan would disappear forever, we may have opted to buy a more permanent centerpiece."

Just as the melting polar ice caps are raising sea levels around the world, the EPA projects there will be one-quarter of an inch of water on the floors of banquet and reception halls by 2020.

Miami Ice Sculptor Fernando Escobar encourages his clients to provide shade for ice sculptures. "Shade can increase the lifetime of the sculpture up to 30% especially in warmer states such as Florida and Texas."

Al Gore has agreed to be the national spokesman for the 'Save America's Ice Sculptures' initiative. Speaking at the organization's first U.S. Conference, Gore said, "I enjoy having an ice sculpture aboard my private jet so we keep it refrigerated to prevent a melting tragedy. It requires a little extra fuel but it's worth it." Gore's ice sculpture is an actual small scale replica of his private jet.

Experts warn buying ice sculpture on eBay is not good idea. Ebay has reported many complaints involving sculptures melting by the time they arrive at the residence of consumers.