our breathtaking newsletter
Weekly gloriousness sent to your inbox.
Friday, July 26th - 12:00 PM-12:00 AM

DERF Happy Hour
Keep checking back here to find out where the next DERF Happy Hour will be!
SNOW EMERGENCY: Area girlfriends unable to return stuffed Valentine's bears to CVS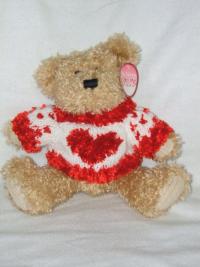 CINCINNATI, OH - After the Cincinnati area was pounded by a post-Valentine's day snowstorm, many residents have found themselves trapped in their homes. This is an especially tough situation for many area girlfriends, who are unable to return the stuffed Valentine's bears they received as Valentine's Day presents.
After receiving a stuffed bear adorned with cupid wings as a Valentine's Day present from her boyfriend, Deborah Roberts immediately began making plans for its return. "I pretended to be excited and stuff, but then I started keeping close tabs on the weather reports," Deborah explains. "I was hoping we'd just have a dusting by 7 am so I could sneak off and return it, but my car was pretty much snowed in by that time."
The snow has been a two-fold benefit to Walgreens, as shoppers stocked up in anticipation of the snow, and now the snow is keeping many from returning poorly thought out Valentine's day gifts. "This has been the lowest return rate for Valentine's bears ever." said area Walgreens manager Peter Armbruster. "Although, I did have one girl travel here on cross country skis to return one this morning."

Other girlfriends were less ambitious about returning the stuffed bear. "I guess I'll just have to keep it here in the house a few more days," lamented Erica Huffman. "Hopefully they'll at least give me a store credit."
Related Stories