our breathtaking newsletter
Weekly gloriousness sent to your inbox.
Friday, October 18th - 7:00 PM-2:00 AM

DERF Happy Hour
Keep checking back here to find out where the next DERF Happy Hour will be!
Eskimo melts igloo to avoid bank repossession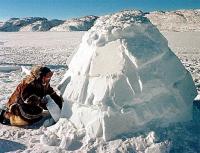 NOME, ALASKA - After being notified by his bank that his home would be seized for non-payment, Nerro Miktok spent weeks wondering what to do. After some thought, Nerro decided to not let the bank get the best of him, and melted his igloo to the ground.
"It was a very liberating experience," Miktok stated. "Those greedy bankers were ready to come and kick me out of this place, probably hook it up to a dog sled and take it away. Looks like they're going to need to bring a wet-dry vac instead."

Mr. Miktok began the process of melting his home by simply playing with a disposable lighter against the ceiling. Other family members helped out with the job using a welding flame and a hair dryer.

"I hope the bank arrives to take this small pond before it evaporates." said a laughing Miktok while eating seal jerky.
Miktok and his wife say they have plans to build a new home out of a half ton supply of whale blubber they received as a wedding gift back in the nineties when whale blubber prices were at an all time low.

Miktok's bold move against the bank comes as similar situations have been happening around the country. A man in the Cincinnati area bulldozed his soon to be foreclosed upon home, a couple in Arizona used a garden hose to turn their adobe home into a puddle of earth, sand and straw before the bankers could take it, and a man living on the streets of New York City fed his cardboard home to rats before it could be repossessed by the refrigerator warehouse dumpster where he obtained it.