our breathtaking newsletter
Weekly gloriousness sent to your inbox.
Thursday, July 12th - 3:00 PM-9:30 PM

DERF Happy Hour
Keep checking back here to find out where the next DERF Happy Hour will be!
Rumpke landfill odor cancels out Price Hill stench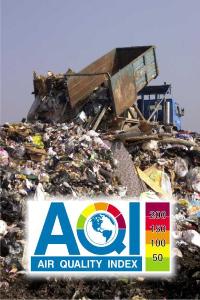 CINCINNATI, OH - After a malfunctioning gas well caused an increase in the odor from the Rumpke landfill, it was discovered that the new smell effectively cancelled out the general odor of Price Hill. Local environmentalists are calling the phenomena a victory for the overall air scent in the Tri-State.

The gases from the well escaped into the air in a rotting garbage scented cloud that drifted throughout the community. Area residents were quick to discover that the equality of the scents. "I wasn't sure what to think at first," said Lois Reinhart from Colerain Township. "I either got used to it really fast, or the fumes killed enough brain cells that I wasn't able to tell the difference."

EPA spokesman Thomas Weiner explains, "It is a very complicated chemical odor reaction that is rather hard to explain. In laymen's terms, I would just say it is like when a lady wearing too much perfume walks into a bait shop."

Some Price Hill residents are upset that the smell of their community has been cancelled out. "We've worked hard to perfect that smell for over a century," complained resident Paul Abrahamson. "It was a wonderful mix of body odor, wet dogs, chili, axe body spray, and moldy jean shorts. I miss it already."

For a short time, the two smells met and independently coexisted halfway between Mt. Rumpke and Price Hill. Residents of Delhi claim to have seen a foul green cloud meeting with a foul bluish grey cloud, and claim that standing between the two was somewhat of a religious experience.
Related Stories