our breathtaking newsletter
Weekly gloriousness sent to your inbox.
Saturday, February 1st - 12:00 PM-2:00 AM

DERF Happy Hour
Keep checking back here to find out where the next DERF Happy Hour will be!
12 inch Jonas Brothers doll taller than 2 out of 3 Jonas Brothers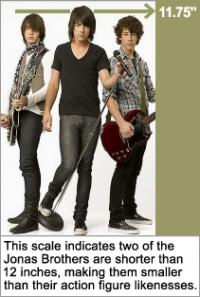 LOS ANGELES - This week's launch of the action figure likenesses of the popular Jonas Brothers has exposed surprising news regarding the diminutive stature of each member of the boy band sensation. Reporters learned two of the Jonas Brothers are actually smaller than their action figure counterparts.

During a recent press conference the Jonas Brothers appeared alongside their newly released doll counterparts, and reporters had difficulty differentiating the real Jonas Brothers from the dolls. Rolling Stone Magazine reporter, Gavin Edwards commented, "These guys are a lot smaller than anyone realized. We always knew they were little fellas. That's probably what makes them so cute but I never dreamed they were this tiny."

Industry watchers say until now the tiny size of the Jonas Brothers has been concealed in their videos using a system of miniature stage props and computer generated imagery. Additionally, experts say live concerts represent a difficult logistical challenge for performers this small. Creating the illusion of larger scale requires sophisticated magnification technology.

The small size of the performers also presents additional safety concerns. Reportedly, all three of the Jones Brothers was seriously injured while rough housing with the newly released Hannah Montana doll which is considerably larger than the Jonas Brothers both in size and weight. Tour Manager, Daniel Kreps, commented, "While on tour, we try to keep the brothers limited to playing with toys no larger than plastic army men and to use caution even with items that size. A mishap with a seemingly innocent toy could easily result in the loss of Jonas Brother and that is something the world doesn't need right now."