our breathtaking newsletter
Weekly gloriousness sent to your inbox.
Saturday, February 1st - 12:00 PM-2:00 AM

DERF Happy Hour
Keep checking back here to find out where the next DERF Happy Hour will be!
America needs time to process the 96-page USA TODAY Michael Jackson commemorative edition before next celebrity death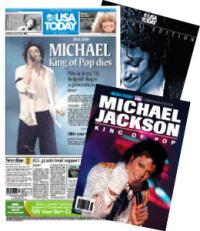 NEW YORK, NY – As Americans flock to newsstands to purchase the newly released USA TODAY Michael Jackson commemorative edition, executives at USA TODAY say mourners need time to process the 96-page glossy-formatted, photo-driven publication before coping with further sudden celebrity deaths.

In a statement released today, USA TODAY executives said, "The recent rash of other celebrity deaths has only overwhelmed and distracted the American public which needs time to mourn the death of Michael Jackson. Another tragic celebrity death in the next few days may interrupt the public's ability to process the 100 full-color images and special features such as quotes about Michael Jackson from other icons of music, film, and culture."

USA TODAY executives also encourage grieving Americans to further process their feelings by visiting www.usatoday.com to read additional perspectives and comments from readers.

USA TODAY Editor, John Hillkirk said, It's best for our readers if we can postpone any new celebrity deaths for about a week. But if a major celebrity with a stature comparable to Michael Jackson dies, rest assured our editorial staff will scramble to get another commemorative edition on newsstands within 48 hours."

Reportedly, in anticipation of several upcoming celebrity deaths, USA TODAY has completed commemorative editions for many high profile people including Keith Richards, John McCain, Joan Rivers, and several prominent hip hop artists.