our breathtaking newsletter
Weekly gloriousness sent to your inbox.
Saturday, February 1st - 12:00 PM-2:00 AM

DERF Happy Hour
Keep checking back here to find out where the next DERF Happy Hour will be!
NASA celebrates 40th anniversary of faking moon landing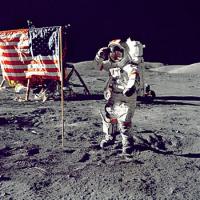 HOLLYWOOD, CA - Four decades after pulling off one of the greatest hoaxes in history, NASA is throwing a party to celebrate the 40th anniversary of it's historic fake moon landing.
The celebration will take place in the original 'Lost in Space' set at CBS Studios in Hollywood where the hoax was filmed. Irwin Allen was the director of the shoot, and remembers the night fondly. "I only wish Walter Cronkite were here to help us celebrate. He did such a great job on TV that night managing to report on the video without even a chuckle. I think he may not have understand it was fake."
The fake moon landing was a huge hit on television, drawing an international audience. Viewers completely fell for the hoax and did not notice some obvious signs that it was staged. Close inspection of the video reveals car headlights driving behind the set in the distance, and a sale tag from a costume shop attached to Neil Armstrong's helmet. Also, during the moon walk, 'Lost in Space' actress June Lockhart can be seen smoking a cigarette behind the lunar module while she observed the filming.

Notable guests at the celebration will include the entire Hollywood crew that filmed the event, actors Neil Armstrong, Buzz Aldrin and Michael Collins, as well as special VIP's Elvis Presley and Jim Morrison, who are celebrating over 30 years of faking their own deaths.

Reportedly, television industry insiders say early plans are also underway for the 10 year anniversary of 9/11 hoax.