our breathtaking newsletter
Weekly gloriousness sent to your inbox.
Sunday, March 1st - 12:00 PM-4:00 PM

DERF Happy Hour
Keep checking back here to find out where the next DERF Happy Hour will be!
Distraught citizens cope with loss of Derek Beasley through heartfelt poetry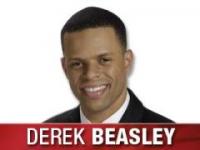 CINCINNATI - After his unexpected departure from Cincinnati to take a job in Mobile, former News 5 meteorologist Derek Beasley left the Tri-State in utter shock and despair. Residents have been dealing with the trauma in various ways. Most suffer silently while contemplating a world without Derek. Others spend their days and nights crying in pain like a innocent family of bear cubs that have been abandoned by their beloved mother. One group of young men formed a weather oriented band called The Derek Beasleys. The group plans to release their first single, StormTracker 3000 is Nothing Without You, this fall. But others have found a way to deal with the heartache by composing beautiful poetry.

Michael Wasserman spent two days in solitude on his deck in Mt. Adams, holding a blank canvas, a pen and an ink well. At the end of his silent vigil, he produced several haiku versus that expressed his feelings.

Derek in the morn'
Inspiring as the sunrise
My sun's gone away

I've never seen rain
Like I saw it through Derek
Dark storms of sadness
In a Clifton coffeehouse, there is a more social aspect to the poetry, as the authors recite their works in front of a supportive audience. The crowd snapped their fingers and applauded as UC student Heather Legget read:

I feel a low pressure cold front filling the air
I'm an empty vessel of despair

Derek, so bold and exciting
Derek, even cooler than lightening

I want to see you on my TV
I want you forever with me

A group of young women gather at the Border's books in Westchester to share their poetic thoughts:

Derek, Derek
You never said it would be like this

Derek, Derek
Come back for one last kiss

As local schools began opening for the new year, they brought in grief counselors to help children deal with the loss, and understand their feelings of abandonment. Mt. Washington Elementary 5th grader Peter Dott wrote this to express his feelings:

Derek Beasely made my family happy
telling us if it was gonna snow or rain
but now he's gone and I'm really scared
that Dad will start drinking again

Even Derek's News5 colleague Sheree Paolello penned this memorable work:
That guy who used to talk about temperature is gone
I really really really liked him a lot
I guess I'll miss him quite a bit
But maybe I'll get his parking spot

Many of the poems will be recited at the dedication of the Derek Beasley memorial statue. Others will be compiled into a journal that will be sold as a fundraiser for the Post-Derek Trauma Syndrome society.